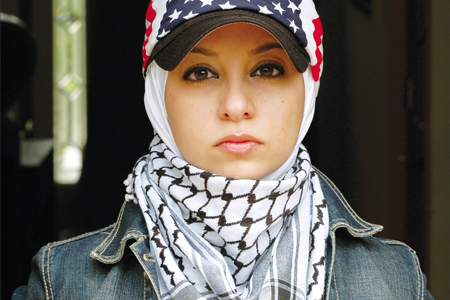 iCover - a photobook on Muslim women
Issue 64 January 2010
Book by Sadaf Syed
Review by Rahima B Miah
Sadaf Syed's photo-essay on American Muslim women captures a reality that is rarely given much substance. The glossy photographs have the effect of shattering the 'glassing ceiling' as the images vividly portray Muslim women in a light contrary to the commonly held stereotypes.
The author shares both her story and stories of the women she has photographed, discussing the reservations and the responsibility the veil symbolises. As the veil is stereotyped as going against the ideals of modernity the women illustrate that they are in fact not much different from the average American
woman. The inspiration behind the veil Syed states is to 'adopt the divine definition of femininity.' Living by this definition does not in any form hinder their personal freedom or their individuality rather it has liberated them from the clutches of synthetic beauty. Regular surfers Sama Wareh and Aurelia Khatib clearly show that although the hijab is not typical beach attire, this does not prevent them from hitting the waves!
Stunning pictures present various vocations: the patriotic woman, the professional woman, the sportswoman, the artist and the mother. Sadaf Syed clearly illustrates that beyond the veil live women who are pursuing their passions and ambitions. Seeing such pro-activism, in particular with the images of the women surfing, boxing and riding a motorbike transcends the perception of Muslim women as being trapped in medieval practices. Contrary to common expression 'a picture speaks a thousand words', there is one resonating message that is being pervaded – all of these women are the modern women of today.
The book opens with a poem called 'Her Honor' which embraces the American motto 'land of the free'. The poet, Haniya Malik, encourages the pursuit of alternative forms of respect in a land that ordains freedom for all. The effect of this poem is that it builds a form of encouragement and resilience against conforming to narrowly defined perfection.
The causal tone of this book instantly draws the reader and makes them feel as though Sadaf Syed is sitting next to them voicing both her experiences and the experiences of the other hijabi women. The reader is endowed with appreciation, motivation and encouragement when perusing through this book.
iCover is a book suitable for everyone to read. I would recommend this book, especially to young teenage girls looking for role models and for those who are of the perception that the veil does not enable individuals from leading a life of a modern woman.
Share this


Link to this
Printer Friendly