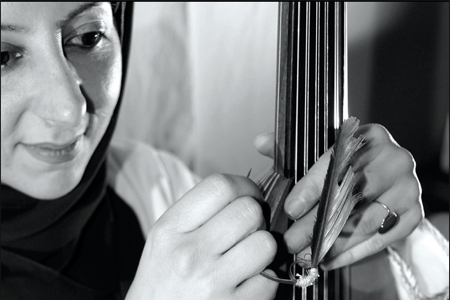 Alwan Festival New York: Women's Visi ons: A Festival Across and Genres and Traditions
Issue 64 January 2010
Review by Tahereh Hadian
Alwan for the Arts is a New York based Arts and Cultural Centre that promotes Middle Eastern, North African and South Asian Art. In December 2009, it held a festival on "Musical Performance: Women's Visions: A Festival Across Genres and Traditions", which featured Palestinian singer, Slama Marjieh and Iranian Oud player, Negar Booban, Kamla Abu-Zekru's One Zero. These were all recorded and can be viewed online at alwanforthearts.org.
Palestinian artist and solo singer Salma Marjieh kicked off "Women's Visions: A Festival Across Genres and Traditions" with the classics of Ismahan, Leila Mourad, Umm Kulthoum, Fairouz, Farid al- Atrache, among others, and paying a special tribute to her native country in performance of the folkloric tunes of Palestine. Salma Marjieh highlights the role women in the Middle East have played in the independence movement by their emphasis on national identity and regenerating the traditional tunes. Umm Kulthum played this role earlier in the century as a national icon to whom the Egyptians could relate to and define their specific cultural- musical character,and distinguish themselves from the coloniser.
Iranain Oud player Negar Booban gave a solo instrumental oud performance in an expressive conceptualization of "the birth of the Sun", based on the mythical images in Persian beliefs about "Yalda" night. "Sheb-e Yalda" is the longest night of the year in winter in which according to the ancient Iranian myths the sun or "Mitra" was born. the audience was passionate about her focus on traditional Persian music "Dastgah" and rhythms which contributed to the preservation of national cultural heritage. "Shab-e Yalda" is a mythical Persian heritage, which has been celebrated among Iranians historically where they read poems of Hafez, Sa'di and Ferdowsi, tell stories, and recite literary pieces until the longest night rejoices with dawn.
The final section of the festival presents May Nasr and Lourdes Pérez who are considered musical icons in their respective lands: May, from Lebanon, Lourdes, from Puerto Rico. The two singers had interactions and exchanged letters and ideas but did not meet until a year later. The Israeli war with Lebanon in 2006 was the background of this union when May was listening to a version of "Unadeekum" (I Call To You All) by Ahmad Kabour that Lourdes had recorded. It was a song about resilience against war and survival, translated and sung by Lourdes in Spanish and Arabic. Thus, the two singers initiated a tradition which calls for peace and freedom and the end of human rights violations.
When they met in New York in 2007 they recorded Lourdes' song "Caminaré," which appeared in May's CD, Lil Ghaly. in songs about love and freedom." Thus the two singers not only point to solidarity and unity among two people of different nations but also point to the contributions women specifically have had in this path.
Share this


Link to this
Printer Friendly