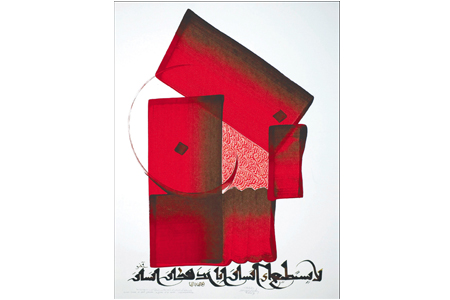 'KPMG Mind, Body and Soul' - the Mica Gallery
Issue 64 January 2010
Review by Fatema Zehra
KPMG hosted the launch of the Islamic Art Exhibition, to mark the Festival of Eid.
The exhibition was organised under the direction of the Mica Gallery of South Kensington, who specialise in Islamic and contemporary art. The exhibition covered the theme of 'Mind, Body and Soul', a thought provoking collection that provided a beautiful and varied exploration of the beliefs, practices and cultures of Islam. The exhibition explored iconic symbols and architecture of in an array of styles and textures. The Mica gallery also showcased emerging artists of both contemporary and traditional techniques, using calligraphy, painting, porcelain, sculptures, and glass.
Kevin Jackson combines architectural textures and colours of the Arab world, to depict calming urban scenes from across the Middle East. In contrast, Hassan Massoudy (work pictured above) works on the simplistic and elegant movement of script to create great strokes of colour combined with thought-provoking words of wisdom. The Islamic Art Exhibition is visual insight into an array of themes of the relationship of mind, body, soul, and oneness of God.
Mica Gallery
South Kensington (Mon - Fri, 10am-6pm. Sat, 11-6)
www.micagallery.com
Share this


Link to this
Printer Friendly