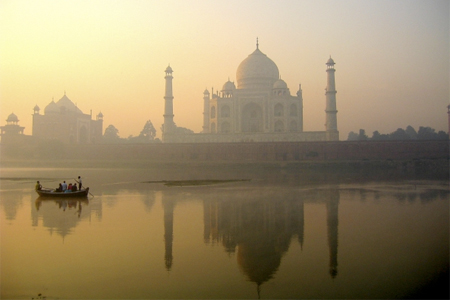 Mughal Magic - Shelina Janmohammed
Issue 64 January 2010
The Mughals were once an Islamic imperial power that left behind flawless architecture and an incredible culture and heritage.
It was the first time that my Indian genes had been to India. Almost two hundred years ago, my family had migrated across the Indian Ocean to the shores of East Africa, and then generations later, had flown onto Britain.
I was deeply anxious about the trip. Despite the Indian origins of my DNA, my own personal story was very firmly British. How I would make sense of the two in a place where their histories were at the same time intermingled and conflicted?
I was even more concerned about whether I would be 'spotted' as an 'outsider'. Would the English accent in my Urdu, my clothes and my demeanour give me away? I looked Indian, of course I did, but did I really look Indian? And what did that mean anyway?
The plan was to fly to the capital Delhi and then to visit the Taj Mahal, one of the world's most revered monuments.
My taxi took me from my hotel in Agra – a grey, depressing and higgledy-piggledy town – to the entrance of the road leading to the West Gate of the Taj Mahal. I stood in front of the ticket office which had two counters, one for Indians and one for foreigners. Which was I?
I plumped for the 'Indian' queue. The cashier sold me a ticket, and I felt a happy blush of belonging rising in my cheeks.
I boarded a battery powered bus to take me the 1km to the Taj's entrance. The area around the monument, known as the Taj Trapezium Zone, has strict
emission guidelines to protect it from pollution. As the little pollutant-free milk-float trundled towards the West Gate, I reflected: had I really been accepted? Perhaps both he and I had been fooled, and I was just a fraud?
I handed my ticket to the guard at security who confirmed my anxieties: "Not Indian," he declared, and I was dispatched to obtain a foreigner's ticket. My genes might be Indian, but the rest of me was not. It left me with the question: who am I? ...>
To read the rest of this feature, get your latest issue of emel magazine>
1) Delivered to your door for only £3.50 with FREE Postage and Packaging
You can get your latest issue of emel with FREE Postage & Packaging.
Click here for terms and conditions
Call us on 020 7328 7300 or email info@emel.com.
2) Find your Local Stockist
Your latest issue of emel is also available in stores nationwide including WHSmith and Borders.
3) Subscribe for one year - now only £29.95
You can subscribe for only £29.95 (that's 50% off the standard UK subscription price) and get 12 issues delivered straight to your door, every month..
Call us on 020 7328 7300 or email info@emel.com
4) Purchase a digital copy here for a reduced price
Share this


Link to this
Printer Friendly