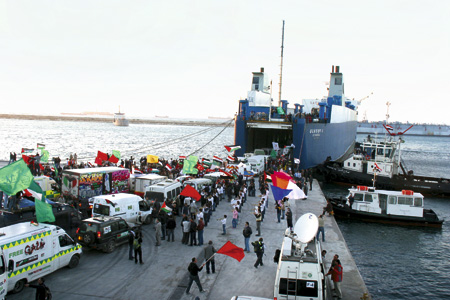 The Gaza Siege Busters
Issue 65 February 2010
As Viva Palestina 3 rolled into the Middle East en route to Gaza, emel's embedded reporter, Mohamed Madi, joined them for the turbulent final leg.

Photography by Seba Asmaa
"To drive an ambulance 1,000 miles through Europe and the Middle East is better than to read 1,000 books." Nowhere was the wisdom of this (slightly tweaked) Chinese proverb more apparent than on the Viva Palestina convoy, taking vital aid and medicine to the beleaguered people of Gaza. As it snaked its way through Syria, Jordan and Egypt, it offered an intense snapshot of the politics and the people of the Middle East - the good, the bad and the ugly.
This was the third incarnation of the Viva Palestina concept. Starting off in Britain on 5th December 2009, they had traveled through France, Belgium, Germany, Austria, Italy, Greece, Turkey and Syria before I joined up with them in Amman, Jordan.
I instantly found out that traveling on the convoy is a stressful, stop-start affair. Long days of sitting around strange towns waiting for news are pierced with sudden, frenetic rushes to get to this country or that border in a short space of time. The situation moves so quickly from deadlock to movement that you cannot afford to rest. Add to that the difficulties of navigating 200 vehicles and 500 people through foreign roads, all of who need feeding and fueling, prayer breaks and toilet breaks, and the logistical magnitude of the task starts to become apparent. Logistics you could plan for though. It was political posturing which caused the most grief.
To read the rest of this feature, get your latest issue of emel magazine>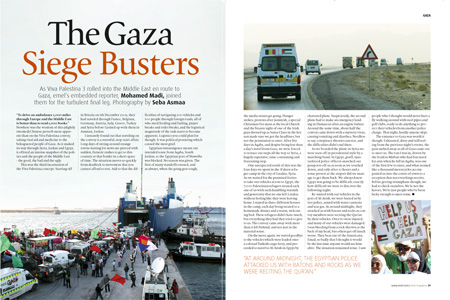 1) Delivered to your door for only £3.50 with FREE Postage and Packaging
You can get your latest issue of emel with FREE Postage & Packaging.
Click here for terms and conditions
Call us on 020 7328 7300 or email info@emel.com.
2) Find your Local Stockist
Your latest issue of emel is also available in stores nationwide including WHSmith and Borders.
3) Subscribe for one year - now only £29.95
You can subscribe for only £29.95 (that's 50% off the standard UK subscription price) and get 12 issues delivered straight to your door, every month..
Call us on 020 7328 7300 or email info@emel.com
Share this


Link to this
Printer Friendly