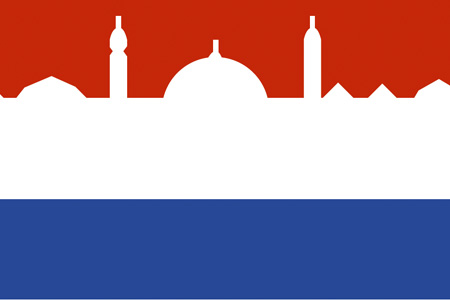 Going Dutch Part II
Issue 65 February 2010
I had afternoon tea with a French-speaking woman living in the Netherlands. When I asked her if she was Dutch, she looked uncomfortable and retorted, "I am Belgian, and nothing in the world would change that," even though she had lived in the Netherlands for over twenty years. When I asked her if Dutch Muslims said the same thing about their identity, would they not come under a barrage of criticisms. She did not know what to say. This was good old fashioned European double standards: one rule for white 'foreigners' and another one for the nonwhite foreigners.
We discussed the mayor of Rotterdam who was a Muslim, and was behind the sacking of Tariq Ramadan from his position as the Muslim advisor to the city council. The problem with the Muslims in Rotterdam is that the first generation of immigrants may have worked hard to earn a living, but the second and third generations of young Moroccans were not going to schools and did not have a job. They were now a burden on society. There were many supportive initiatives and government funded programmes, but these young people were not taking advantage of them. "This helps Geert Wilders. He has championed 'Vlaams blang – the Flemish interest', which is why he's so popular," my companion she said.
That evening I went to dinner at the home of a young Dutch entrepreneur. He did not see any reason why the Muslims were complaining about everything; he thought the Iraq war was necessary; Afghanistan was a terrorist state and Palestinians were responsible for their misery. He was set in his views, and did not entertain any different way of thinking.
To read the rest of this feature, get your latest issue of emel magazine>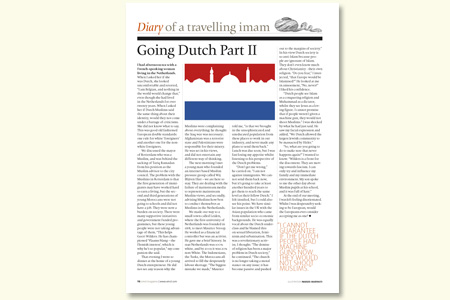 1) Delivered to your door for only £3.50 with FREE Postage and Packaging
You can get your latest issue of emel with FREE Postage & Packaging.
Click here for terms and conditions
Call us on 020 7328 7300 or email info@emel.com.
2) Find your Local Stockist
Your latest issue of emel is also available in stores nationwide including WHSmith and Borders.
3) Subscribe for one year - now only £29.95
You can subscribe for only £29.95 (that's 50% off the standard UK subscription price) and get 12 issues delivered straight to your door, every month..
Call us on 020 7328 7300 or email info@emel.com
Share this


Link to this
Printer Friendly