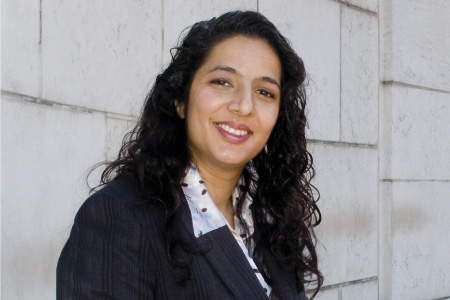 Everything but Hear
Issue 65 February 2010
Sabina Iqbal smashes stereotypes and barriers. Ali Orr gets a sense of the dynamic and enabled power woman.
Sabina Iqbal greets me with a smile and a businesslike handshake. In equal parts smart and glamorous, eloquent and driven, she is successful by anyone's standards. As founder and chair of a pioneering charity, author, a full-time worker in social services, winner of "Women of the Future" awards and married with two young children, it's not hard to see why she was listed as one of the UK's most powerful Muslim women. Sabina also happens to be deaf.
As founder of the groundbreaking charity Deaf Parenting UK, which provides parenting advice to the wider British deaf community, Sabina is at the forefront of debate pertaining to policy and issues affecting deaf parents; particularly addressing the issues of access to public services. Yet she feels there are special issues facing a deaf girl born into an Asian Muslim family. Negative community attitude she feels, is a reflection of the attitudes held across the wider, Muslim World. On her trips to see family in Pakistan she is dealt with like a sick child. "Their attitudes are just so patronising. They'll look at me and say, 'Oh you poor child, we'll pray to Allah for your hearing', and I think, I'm married with kids, I drive, have my own charity, my own job… It's their own children they need to be worried about!"
Such attitudes to deafness are all the more bizarre when compared to Islamic teachings and the legacy of the Islamic civilisation through the middle ages, where a large number of awqaf, or endowments, would go towards supporting the education and needs of the disabled communities. While references in the Qur'an deal only with the symbolic deafness of the one whose heart is deaf and blind to the signs of God and are completely detached from physical deafness, the story behind the revelation of the Qur'anic chapter, 'Abasa' sends a clear message about the responsibilities of the community and of individuals. The Prophet was busy addressing a prominent group of dignitaries from the Quraysh tribe in the hope of influencing the wider community when a blind man interrupted him, seeking education about Islam. In the words of the Qur'an, the Prophet 'frowned and turned away' from him, and was admonished by the revelation which followed. As a result, the Prophet learnt an important lesson in dealing with those with disabilities, and not only was he more supportive and deferential of the man, Ibn al Maktum, from that point on, he also entrusted him with significant responsibilities rather than seeing him as a burden or as someone who couldn't help himself.
To enjoy the rest of this feature, get your latest issue of emel magazine >Read Below<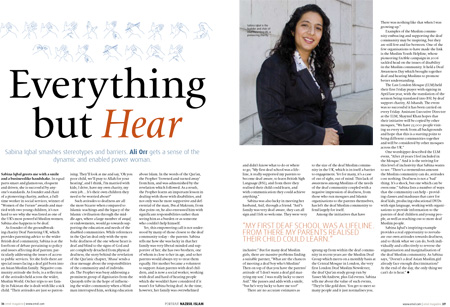 1) Delivered to your door for only £3.50 with FREE Postage and Packaging
You can get your latest issue of emel with FREE Postage & Packaging.
Click here for terms and conditions
Call us on 020 7328 7300 or email info@emel.com.
2) Find your Local Stockist
Your latest issue of emel is also available in stores nationwide including WHSmith and Borders.
3) Subscribe for one year - now only £29.95
You can subscribe for only £29.95 (that's 50% off the standard UK subscription price) and get 12 issues delivered straight to your door, every month..
Call us on 020 7328 7300 or email info@emel.com
Share this


Link to this
Printer Friendly