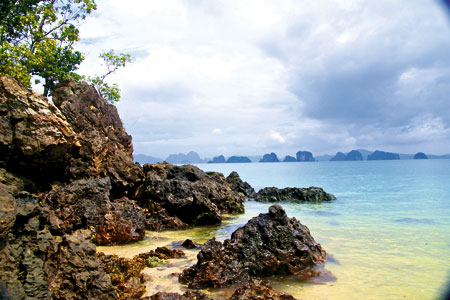 Thailand's Hidden Gem
Issue 66 March 2010
Uncovering the tiny island of Koh Yao Noi in Thailand's Andaman Sea proves to be an idyllic experience. Words and Photography Nabeel Shariff
"Coconut Corner, is it nearby?" I asked the laid back petrol attendant. "No far. Take left, then straight 10 minute." I thanked him, revved my motorbike back onto the lone road and headed south. As my trundling Honda turned the corner onto Pasai beach, I began to appreciate the joy of island life. The undulating, winding road running the periphery of the island draws the call to prayer every few kilometres, and translates the aroma of fried squid hawked by hijabi beach-food sellers into a comfort only an island of this nature can deliver. Koh Yao Noi could be one of the few bastions of untouched wilderness in the area which makes you feel like you're in that 'happy place', or as the locals call it – 'my island home'.
Koh Yao Noi (translated as Little Long Island) lies less than an hour away and is equidistant from its neighbouring island resorts of Phuket and Krabi in southern Thailand. This little known island is only 12 kilometres long, with a population of 4000, 95% of whom are Muslim. The community ethic of the island and traditions of the fishing trade form the foundations of their history, with many of the islanders still eking out a subsistent way of life. Whilst tourism brings in valuable revenue, on nearby islands it has done so at the expense of community values and customs. With this in mind, on Koh Yao Noi a conscious effort is made by the islanders to balance welcoming visitors to their island with maintaining their faith and community.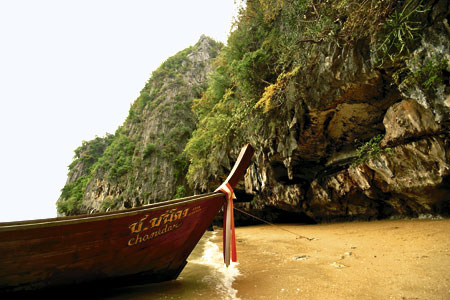 The island is a village of men, women and children zipping around their daily chores on a scooter or motorbike. The island is largely car-free, with two wheeled alternatives proving to be the chosen method of travel. I rented a motorbike (for about £7 a day) and headed to Coconut Corner to meet Kitty Noorie, a Scottish expatriate who would be a valuable source of knowledge during my stay on the island. Kitty moved to Koh Yao Noi to open a sea kayaking centre with travellers renting her kayaks for up to three months at a time, venturing as far as the northern islands of Malaysia. After falling for the island's charms and faith, Kitty explained that the island and the surrounding areas were primed for exploration. Phang Na bay is a spectacle from the air, however sailing through the labyrinth of limestone pillars is, I was assured, an experience not to be missed. So with that, Kitty put me in touch with one of her best guides -an islander named Kai- as well as a long tail boat and a sea kayak to explore the beauty of Phang Na bay.
The view from the long tail was as breathtaking as Kitty had promised, with dominating pillars rising out of the azure blue sea. The disparate rock formations each hide a web of cave structures and lagoons waiting to be explored. Looking into the distance, one of the limestone pillars grew in stature as we edged towards the quiet pristine white beach of Koh Hong. Kai reached for the kayaks and slid them out into the water. Settling myself into the hull, the vastness of the bay became even more impressive as we paddled towards the island. The eco-system offers a wealth of treasures for wildlife fanatics, from birdlife to water lizards. After a few hours of paddling through the vivid lagoons, it was back on the long tail up to Koh Panyee; a floating village in the heart of Phang Na Bay.
To enjoy the rest of this travel feature, get your latest issue of emel magazine >Read Below<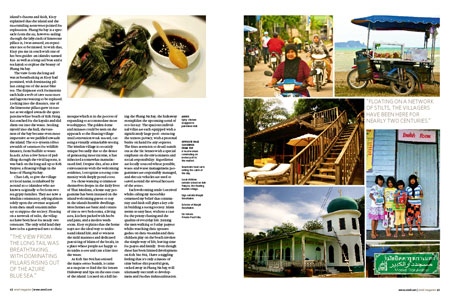 1) Delivered to your door for only £3.50 with FREE Postage and Packaging
You can get your latest issue of emel with FREE Postage & Packaging.
Click here for terms and conditions
Call us on 020 7328 7300 or email info@emel.com.
2) Find your Local Stockist
Your latest issue of emel is also available in stores nationwide including WHSmith and Borders.
3) Subscribe for one year - now only £29.95
You can subscribe for only £29.95 (that's 50% off the standard UK subscription price) and get 12 issues delivered straight to your door, every month..
Call us on 020 7328 7300 or email info@emel.com
Share this


Link to this
Printer Friendly