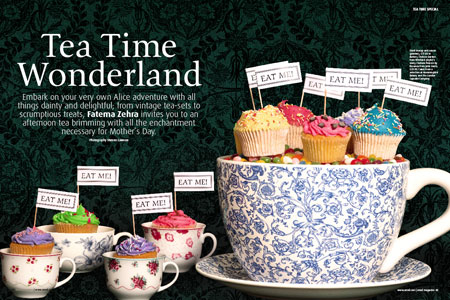 Tea-Time Wonderland - Ideas for Mother's Day
Issue 66 March 2010
Embark on your very own Alice adventure with all things dainty and delightful; from vintage tea-sets to scrumptious treats, Fatema Zehra invites you to an afternoon tea brimming with all the enchantment necessary for Mother's Day.
(This article was first published in March 2011 for issue 66)

Photography by Steven Lawson
There's nothing quite like afternoon tea. A chance to slightly indulge over a warm cup of tea with friends and family. However, when you come across your mug-tree and all you find are an array of single pieces left over from the various collections of tea sets you have compiled over the years, then suddenly tea time doesn't feel like such a treat.
But don't despair, the 'mix and match' look carries a charm of its own, giving your table setting character and adding a unique flare with a glamorous vintage touch. Even the high street has adopted this charming look, with stores stocking tea sets with mismatched patterns and colours to add a dash of beautiful eccentricity to afternoon tea.
Creating a magical and enchanting Alice in Wonderland inspired tea party opens up room for possibilities without strict guidelines to getting it right. Choosing beautiful pieces of crockery, be it elegant simplicity to intricate designs, one cannot go wrong. Mixing and matching the different patterns creates inspiring, nostalgic and colourful table settings complimenting the wonderful single items of ceramic.
Tea cups and tea pots from a selection at Bake-a-Boo. Not for resale.
Tea Companions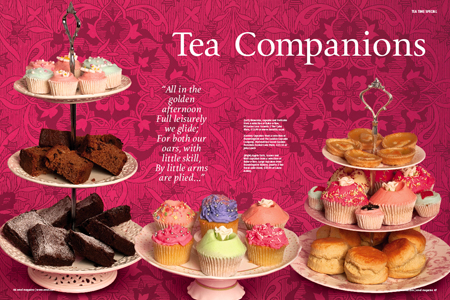 (Left) Brownies, cupcake and fruitcake from a selection at Bake-a-Boo. Victorian Lace Ceramic 3 Tier Cake Plate, £13.99 at www.barnitts.co.uk
(Centre) Cupcakes from a selection at Hummingbird and The London Cupcake Company. Portmeirion Secret Garden Porcelain Footed Cake Plate, £23.50 at John Lewis
(Right) Apple Tarts, Scones and Mini cupcakes from a selection at Bake-a-Boo. Large cupcakes from Hummingbird Bakery. Josette 3 tier floral cake stand, £30.00 at Laura Ashley.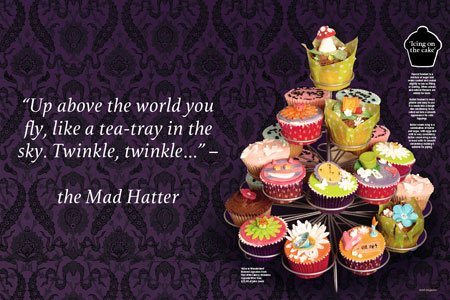 'Alice in Wonderland' themed cupcakes from The Little Cakery. Miniamo Cupcake Wire Tree, £25.00 at John Lewis
'Icing on the cake'
Poured fondant is a mixture of sugar and water cooked and cooled slightly to use as filling or coating. Often colours and natural flavours are added for taste.
Rolled fondant is more pliable and easy to use. It is made into a dough-like consistency to be rolled out into a smooth appearance for cake toppings.
Butter cream icing is a combination of butter and sugar, with eggs and milk to vary consistency. Butter cream icing is easy to work with its smooth consistency making it suitable for piping.
Chocolate Brownies

Ingredients
50g gluten-free dark chocolate

100g butter

200g caster sugar

2 eggs, lightly whisked

1-2 tsp pure vanilla extract

1-2 tsp gluten-free baking powder

pinch of salt

110g chopped walnuts

20cm square tin, lined with silicone paper

Method
Preheat the oven to 180C/350F/Gas 4.
Melt the chocolate in a heatproof bowl suspended over a pan of simmering water or in a low oven.
Cream the butter and sugar until pale, soft and light, then beat in the lightly whisked eggs, the vanilla extract and melted chocolate.
Lastly stir in the ground almonds, gluten-free baking powder, salt and chopped nuts. Spread the mixture in the tin and bake in the oven for about 30-35 minutes.
Leave to cool, then cut into 5cm/2in squares for serving.
Scones

Ingredients
300g plain flour

2 tsp baking powder

Pinch of salt

75g unsalted butter

50g caster sugar

1 egg

120ml double cream

Milk, for glazing

Method
Preheat the oven to 200°C/gas 6 and lightly grease a baking sheet.
Sift the flour, baking powder and salt into a large bowl.
Add the butter and rub in with your fingers until the mix resembles fine breadcrumbs. Alternatively, do this in a food processor before transferring the mixture to a bowl then stir in the sugar.
Beat the egg and cream together.
Pour into the flour mixture and bring together lightly with your hands into a dough. Turn out on to a lightly floured surface and knead very briefly to form a fairly smooth ball.
Pat or gently roll the dough out to a thickness of about 4cm. Use a 6-7cm diameter cutter to stamp out scones from the dough.
Put them on the prepared baking sheet, brush the tops with a little milk, and bake for about 15 minutes until risen and golden.
Transfer to a wire rack to cool for a few minutes, then serve slightly warm.
Fruit Cake

Ingredients
100g plain flour

Pinch of salt

125g whole wheat flour

2 tsp baking powder

1 tsp spoon mixed spice

1/2 spoon ground cinnamon

100g soft brown sugar

100g butter or margarine

225g mixed dried fruit

50g chopped mixed peel

2 eggs, beaten

2 tbsp marmalade

A little milk (if necessary)

Method
Sift the plain flour and salt into a mixing bowl, then stir in the whole wheat flour, baking powder, mixed spice, cinnamon and sugar.
Rub in the butter or margarine. Stir in the remaining ingredients and mix well. Stir in a little milk if the mixture seems too stiff.
Spoon into a greased 20 cm (8 in) round cake tin lined with greased greaseproof paper.
Bake in a warm oven (160'°C/325'°F or Gas Mark 3) for about 1 1/2 hours. Cover the top of the cake with greaseproof paper if it begins to become too brown during the cooking.
Remove from the oven, take out of the tin and discard the greaseproof paper.
Cool on a wire rack, then store in an airtight tin.
Cupcakes

Ingredients
125g light butter

125g caster sugar

2 eggs, beaten

125g self-raising flour

Method
Preheat oven to Gas 4, 180°C, 350°F.
Cream the butter and sugar together until light and fluffy.
Gradually beat in eggs then fold in flour.
Divide mixture between lightly greased bun tins (or silicone moulds).
Bake for 12-15 minutes until just firm to the touch and golden.
Cool for 10 minutes then turn out of tins to cool completely.
Whip the crème fraiche until it just holds its shape then spread on to the base of one cake, spread jam on the other base and sandwich together. Dust with icing sugar.
Apple tarts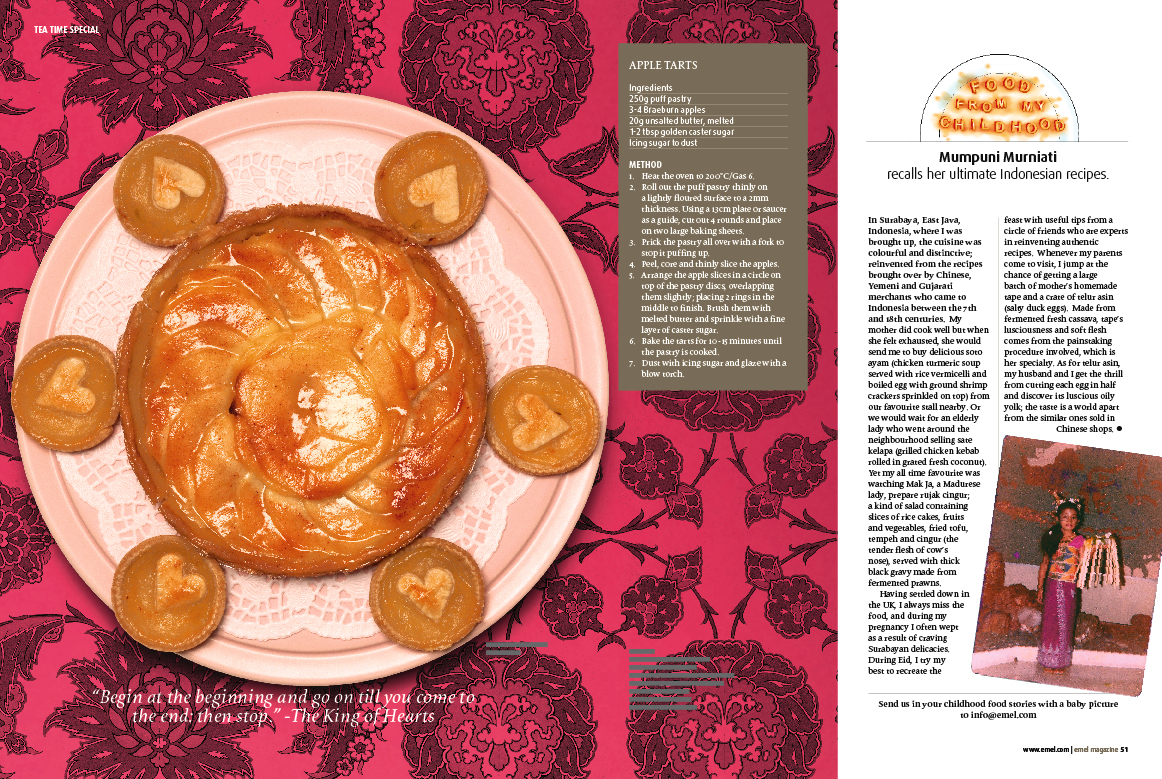 (Mini apple tarts above from Bake-a-Boo)

Ingredients
250g puff pastry

3-4 Braeburn apples

20g unsalted butter, melted

1-2 tbsp golden caster sugar

Icing sugar to dust

Method
Heat the oven to 200˚C/Gas 6.
Roll out the puff pastry thinly on a lightly floured surface to a 2mm thickness. Using a 13cm plate or saucer as a guide, cut out 4 rounds and place on two large baking sheets.
Prick the pastry all over with a fork to stop it puffing up.
Peel, core and thinly slice the apples.
Arrange the apple slices in a circle on top of the pastry discs, overlapping them slightly; placing 2 rings in the middle to finish. Brush them with melted butter and sprinkle with a fine layer of caster sugar.
Bake the tarts for 10 -15 minutes until the pastry is cooked.
Dust with icing sugar and glaze with a blow torch.
Stockists:
www.thelittlecakery.co.uk
www.bake-a-boo.com
www.londoncupcakecompany.com
www.hummingbirdbakery.com
www.barnitts.co.uk
www.johnlewis.com
www.lauraashley.com
The above spread was part of a food feature first published in March 2010 for issue 66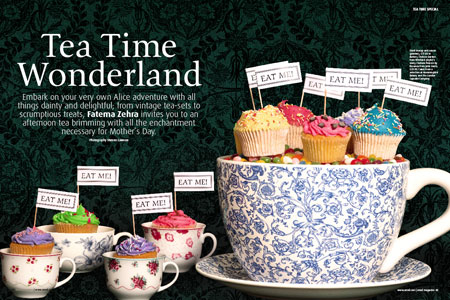 You can pick up a copy of the magazine by the following ways -
1) Delivered to your door for only £3.50 with FREE Postage and Packaging
You can get your latest issue of emel with FREE Postage & Packaging.
Click here for terms and conditions
Call us on 020 7328 7300 or email info@emel.com.


2) Subscribe for one year - now only £29.95*
You can subscribe for only £29.95 (that's 50% off the standard UK subscription price) and get 12 issues delivered straight to your door, every month..
Call us on 020 7328 7300 or email info@emel.com
Share this


Link to this
Printer Friendly