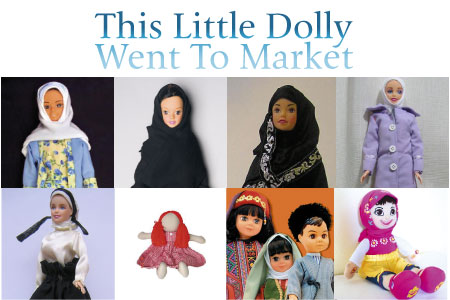 This little Dolly Went to Market
Issue 66 March 2010
The $75 billion global toy market means that toys are not merely child's play. Sarah Joseph examines the new dolls on the block who are eyeing up their share of the global Muslim market.
Fulla is the closest alternative to Barbie within the Muslim doll market. With an array of merchandising and websites all supported by slick marketing, it's hard to miss Fulla pink in the Middle East. Yet Fulla's creators, New Boy, want to disassociate their 11½in fashion doll from Barbie. In an article entitled, "Say Goodbye to Busty Barbie", the corporate website admits "she is somewhat similar to Barbie but Fulla is an Islamic doll that is a role model to Muslim little girls in numerous ways." Apparently, her "long black tresses and large hazel eyes" give emphasis to "the unique features of an Arab woman." Does that mean that an Islamic doll has to look like an Arab? Surely a disappointment for the blonde, blued-eyed European, American and Australian Muslim girls out there; and the African Muslim girls; and the Indian, and the Indonesian... Indeed, given that less than 15% of the world's Muslim population is Arab, her Arab looks don't really make her a global Muslim icon.
However, there is more to Fulla than her dark tresses, at least according to New Boy. In rather poor English their website explains, "She is a loving person, with a strong character. She loves and respects her siblings and mostly her mother and father. Aside from that she is seen with self worth and with a very high self esteem that gives high regard to her society. She is determined to take on the future's challenges by making sure that she educates herself and pursue a lifetime career that would not only help her family but the society as well... Fulla can never be compared to Barbie because in ways and actions they are really very different from each other. Get out Busty Barbie, its Fulla's turn now."
But Barbie is hardly a mass murderer! Her creators, Mattel, make sure that she is good to her family, and kind to her five younger sisters. New Boy promotes Fulla for having healthy career choices – teacher and doctor, but Barbie too has a whole series of "I Can Be" dolls which include doctor, dentist and vet. And whilst New Boy is keen to promote that little girls can play with Dentist Fulla and Teacher Fulla, the series also includes Hair Salon, Fashion Doll Set and Mini Mall. Indeed, the fuchsia pink interactive website for children to play on has tips on how "your clothes make you look thinner or larger," apparently, "it's nothing more than a matter of fooling the eye."
Fulla has taken the Middle East by storm. Given that Saudi Arabia banned Barbie in 2003 saying, "Their revealing clothes and shameful postures, accessories and tools are a symbol of decadence of the perverted West. Let us beware of her dangers and be careful," the market was an open goal. And the prize is large. Merchandising around Fulla includes everything from breakfast cereals to chewing gum, pull-along cases to bicycles, shampoo to perfume. As New Boy say on the Fulla website, "She is an end product of a very shrewd marketing."
Fulla is not the only "Muslim" 11½ in doll – there is Razanne, Leen, Jamila and Arrosa, but New Boy are keen to disassociate Fulla from these too. "Fulla is a great alternative not only to Barbie doll but also to other Muslim dolls who just donned a hijab and an abaya without the character and values." I doubt whether the creators of these other dolls have visions of their creations as axe murderers and despite New Boy's protestations to the contrary, it really seems that the only difference between the "Muslim dolls" and Barbie are the hijabs and abayas that the dolls have to wear. This may be enough for some parents, but the question remains – can a scarf fix a girl's self-worth and body image, or are we just producing a generation of Hijabi Barbies?
Razanne


Launched in 1996 by Palestinian-American, Ammar Saadeh, Razanne has a pre-pubescent figure, all Razanne dolls are equipped with the hijab. She debuted in the Middle East in 2004 with limited marketing, and does not have her own website.
Fulla


Launched in 2003, Fulla is the closet thing to a Muslim Barbie that is on the market. Slightly shorter than Barbie with a slightly flatter figure, her creator's New Boy are keen to promote the Fulla lifestyle.
www.fulla.com or www.fulla.eu
Jamila


Jamila was launched as direct competition to Fulla by Simba Toys Middle East (a subsidiary of German based Simba-Dickie Group) in October 2006. Married to Jamil with two babies, Asad and Almira, Jamila lacks the merchandise and website of Fulla, but does come with crying baby.
Leen


Created by Syrian company, Kinan Toys, Leen comes with abaya and hijab. Blonde and blue-eyed, she recites surah al-Fatiha when pressed.
Arrosa


Arrosa is an Indonesian addition to the Muslim doll market. With outfits spanning global fashion including South-East Asian selatan, Pakistani shalwar kameez, as well as Spanish and other traditional dresses, she has to one of the most cosmopolitan of the dolls on offer.
Zahrah Faceless


A rag doll complete with gingham dress and bunches, the only thing she appears to be missing is a face.
Saghira


Saghira, Arabic for little, is a 17½in doll. Sold with hijab and non-hijab styles, she originates from Morocco.
Desi Dolls


Created by Briton Farzana Rahman, Desi Dolls are 16in soft rag-style dolls. The Muslim doll options, Yousuf and Aamina, recite prayers when pressed. Aimed at teaching young children basic duas in Arabic in 2010 the dolls will include proper tajweed.
www.desidollcompany.com
This feature was first published in Issue 67 (March 2010)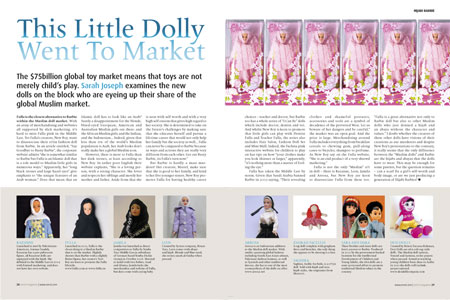 Share this


Link to this
Printer Friendly