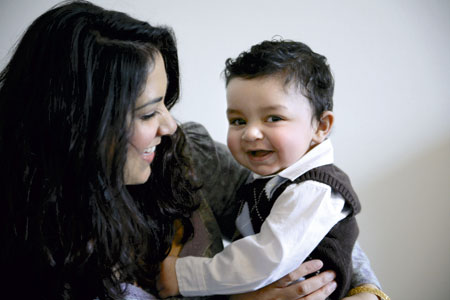 After Hardship Comes Ease - Shayesteh el-Ghazi
Issue 66 March 2010
After suffering two miscarriages, Shayesteh el-Ghazi was left heartbroken and had lost all hope that she'd ever conceive again. She recalls the ordeal of having to come to terms with her loss and the healing process instigated by the birth of her son, Nidaal.
Finding out I was pregnant for the first time was the most magical feeling in the world. I have always been maternal and adore babies, so as soon as I found out I was pregnant I wanted to shout about it from the rooftop. I called all my friends and my family; it was a truly wonderful time. Within the first two months we had purchased so much for the baby and even selected names.
When I started losing the baby, I couldn't comprehend what was happening to me. I still remember the sound of my heartbeat in the hospital waiting room; I was surrounded by women suffering the same way I was. I'd see women going into consultation rooms and coming out smiling and embracing their husbands, whilst others were coming out sobbing. It was like a game of Russian roulette and as I waited my turn, I couldn't help but wonder what would happen to me.
I sat there, tightly holding my husband's hand and reciting every surah, every dua that I could remember. With every part of my mind and heart I was pleading with God – making promises to Him. I just wanted my baby to be okay. When the time finally came and we went into the scanning room, the nurse examined me and hesitated. I held my breath, willing her to say the words, 'your baby is okay'. But that didn't happen. Instead, she called her colleague and they both told us our baby had died. I was completely crushed.
My husband took me home and I then had the unfortunate task of telling my family. I was numb for most of that day. Every so often I'd remember, cry and then return to feeling numb. I remember waking up the following morning and for a split second I thought it may have been a bad dream. Then the emptiness hit me and I just curled up and sobbed into my pillow.
To read the rest of this article, get your latest issue of emel magazine >Read Below<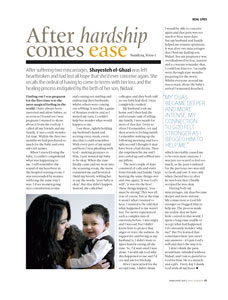 1) Delivered to your door for only £3.50 with FREE Postage and Packaging
You can get your latest issue of emel with FREE Postage & Packaging.
Click here for terms and conditions
Call us on 020 7328 7300 or email info@emel.com.
2) Find your Local Stockist
Your latest issue of emel is also available in stores nationwide including WHSmith and Borders.
3) Subscribe for one year - now only £29.95
You can subscribe for only £29.95 (that's 50% off the standard UK subscription price) and get 12 issues delivered straight to your door, every month..
Call us on 020 7328 7300 or email info@emel.com
Share this


Link to this
Printer Friendly