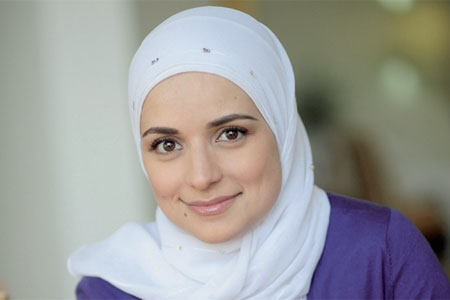 A Week in the life of Mariam Sobh
Issue 66 March 2010
Broadcast journalist and blog-extraordinaire, Mariam Sobh discusses her inherent love of talk-show hosting and managing family life with her renowned hijabtrendz blog.
I start out each day with a look at my calendar because I try to plan out blog posts in advance. I started Hijabtrendz in April 2007 when I was on maternity leave from my job as a political reporter and news anchor in Chicago.
I was miserable trying to find fashionable clothing that was hijab friendly and after having a baby (as most women can attest to), I found that none of my old clothes were fitting and nothing in the store was the right shape. I spoke with friends and they all agreed that it would be great to have a way to network with one another on where to find the best deals.
I decided I should start a website and discuss where to find great deals on hijab friendly clothing from main- stream stores; that way I could keep my friends and others in the loop. The site eventually grew to include even more things that I enjoy writing about and now it has become more of a lifestyle blog for modern Muslim women.
It's exciting because I never thought Hijabtrendz would grow this much and at this pace. I've been featured in a few media publications and just recently made the front page of Turkish newspaper Zaman. I was touched by the response from readers and their words have encouraged me to continue prove to the world that Muslim women and those who wear hijab are just as normal as everyone else.
But managing the website is demanding and takes up a lot of time. Between burping the baby and feeding my toddler, I go through my iPhone several times to see if there is anything 'breaking' that I should post online. I also call around and try to track down designers and local fashion shows for interviews that I think readers would like to hear about. By the afternoon, I manage to rustle up dinner and put the kids down for a nap and as soon as my husband gets in the door, I'm on the bus to work and check- ing up on twitter and email to see if there are any tips from readers on topics they'd like to read more about. And then it's straight into work-mode!
I've been working in radio ever since I graduated because I realised, through trial after trial, that television was not going to happen anytime soon. When I was a little girl, I used to take the baby monitor from my little brothers' room and put on a radio show for them. I found that it was so much fun to read books through the monitor or make up a kids show. I loved it and I didn't realise it was just the beginning of my media obsession.
Through school, I started making programmes on cassettes with an old tape recorder for friends and family by imitating shows that I heard my parents listen to. Sometimes it was just funny versions of a call in a programme where people asked for advice. I'd pretend to be the caller and the talk show host dishing out the advice- I never imagined I'd actually be a radio host one day!
When I finally get back home in the evening, I spend time with my family and hope to avoid the computer at all costs, but usually I end up checking to make sure posts are going out and the website is functioning.
When you're running something as instant as a web- site, there's hardly any time for rest. While there are times when I feel I may burn out, my husband is always by my side to motivate me. Obviously managing family and work commitments is challenging; I don't know anyone who would suggest it's not! After I had my second baby, it became even more so. But that provided me with the inspiration to start hijabtrendz. Ironically, people often joke that when you have a baby your brain 'turns to mush' but I felt the complete opposite. My mind was full of energy and I was trying to figure out how to turn my passion into something more than just a daydream. Through hard work and the support of my husband, I did eventually manage to achieve it.
Now, I'm focusing on evolving hijabtrendz to the point where I can hire women to come on board and be a part of it. The work world is tough and it's even tougher if you're a mother; what better way than to provide a space where women can work from home or even come to an office setting where children are welcome?
It's my dream and I hope to fulfill it someday.
www.mariamsobh.com
Share this


Link to this
Printer Friendly