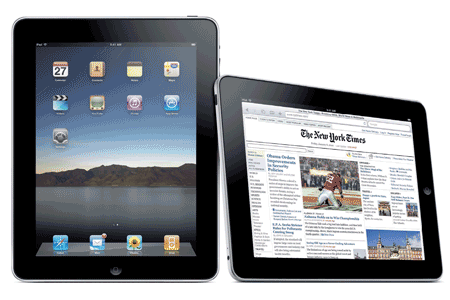 Geek Shaykh - The Year of the Tablet
Issue 66 March 2010
2010 is the year of the tablet. Robi Chowdhury selects a range of forthcoming tablets that are set to revolutionise the world of computing.
Honey, I blew up the iPhone
The Apple iPad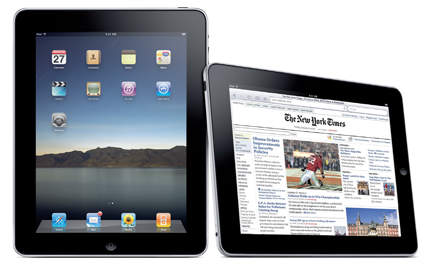 It came, it saw, but the question on everyone's mind is - did it conquer?
There have been hundreds of articles written by numerous tech bloggers from last year who were questioning whether or not this product was actually real.
Apple CEO Steve Jobs confirmed the rumours by presenting the device to the world at an exclusive launch event in California last month. He sat down on stage and promised us that the iPad will bridge the gap between a laptop and a smartphone and assured us that it could potentially replace laptops altogether.
Many would say that the iPad is essentially an iPod touch that has grown in size to a 9.7-inch screen. It harbours memory sizes ranging from 16-64GB and can do pretty much everything an iPod Touch or an iPhone can. This includes the ability to use all existing apps from your previous devices (Apple likes to assume everyone has an iPhone). The iPad could be used to read magazines and newspapers as well as to watch high quality video content on the large screen.
After the grand launch event, the dust settled and major flaws were being spotted with the device such as its lack of a camera and its inability to support Adobe Flash. The greatest flaw in my opinion (shared by thousands of people) is the fact that the iPad can't multitask. You can't listen to music and type up a document at the same time. All that being said, it is obvious that this is a first generation device and things will change over time.
PROS
✔ Easy interface to use
✔ You can use applications developed for the iphone and the ipod touch here
CONS
✗ No multitasking ability
✗ Does not have an onboard camera
✗ Lack of a USB or HDMI port
To enjoy the rest of this feature, get your latest issue of emel magazine >Read Below<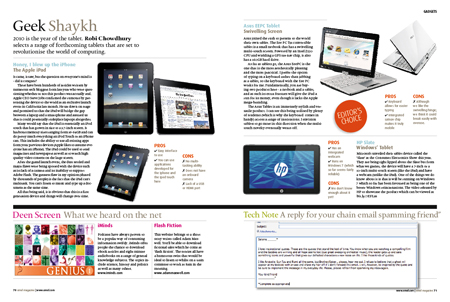 1) Delivered to your door for only £3.50 with FREE Postage and Packaging
You can get your latest issue of emel with FREE Postage & Packaging.
Click here for terms and conditions
Call us on 020 7328 7300 or email info@emel.com.
2) Find your Local Stockist
Your latest issue of emel is also available in stores nationwide including WHSmith and Borders.
3) Subscribe for one year - now only £29.95
You can subscribe for only £29.95 (that's 50% off the standard UK subscription price) and get 12 issues delivered straight to your door, every month..
Call us on 020 7328 7300 or email info@emel.com
Share this


Link to this
Printer Friendly