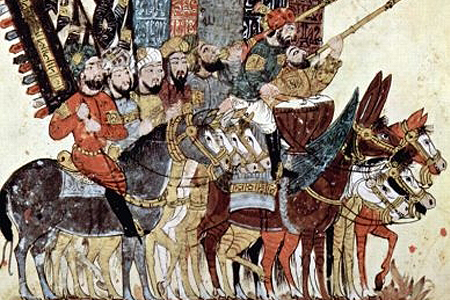 The Book of Contemplation: Islam and the Crusades
Issue 66 March 2010
By Usama ibn Munqidh, trans. Paul M. Cobb
Review by Tam Hussein
When the aged warrior poet, Usama ibn Munqidh of Shaizar in Syria, reflected on his life, he must have thought it an eventful one. He had participated in his share of fighting, intrigue and hunting. At 93, he was the most celebrated poet of his age. The likes of Ibn Asakir, the historian, and other future lights of Islamic civilization were amongst his students; even Saladin, his patron, attended his lectures. What more could an old man wish for? Perhaps it was because his son was off on the campaign trail that made him feel so lonely. So filled with nostalgia for the past he wrote Kitab Al-I'tibar or The Book of Contemplation.
Considering that Usama (1095-1188) was a warrior; one could be forgiven for thinking that his book is an endless tale of intrigue and swashbuckling combat. Indeed, on one level that is exactly what his book is about - an up close personal account of life in the Near East during the Crusades. His pages are replete with hyper-machismo. On one occasion we find him hunting lions, fighting off assassins and charging against those troublesome Franks. He lays bare the constant bickering of Muslim princes in Syria and the court intrigues that lead to the down fall of the Fatimids. His commentary on Frankish customs and manners, though comical at times, is fascinating. However, unlike his contemporaries, he does not make his account into a 'them and us' narrative and is generous enough to give credit where credit is due.
Some critics have considered his autobiography to be the ramblings of a Muslim Don Quixote. But that is to misunderstand his book; for beneath the bravado lies the summation of 93 years of experience. The story of Usama repulsing several Franks is not mere bombast; for he immediately tells us that he turned tail when faced by a single foot soldier. The loving picture of his father sitting bent over a candle copying out a Qur'an in fine hand is poignant but also serves to remind the reader that God is the controller of the fortunes of men and no one can resist him. If understood in this light, his vivid detail and anecdotes make complete sense. Ultimately, the book is intended as the genuine article - a model for the whole community to learn from. And certainly the medieval scholars that followed him appreciated that; Ibn Al-Athir, Ibn Al-Khallikan and others considered him a warrior poet par excellence that must be emulated.
Share this


Link to this
Printer Friendly