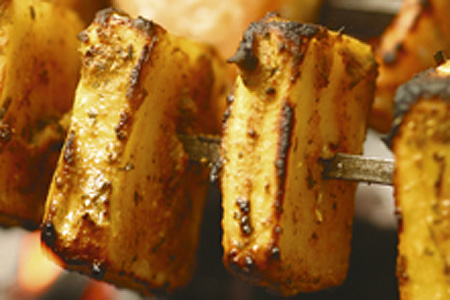 Street Food to Go
Issue 6 Jun / Jul 2004
Back to basics with the latest trend for urban street food
The idea of 'Indian food' will typically conjure up to the minds of many a picture of elaborate restaurants, curry house kormas and vindaloos. Yet in contrast to this is the fresh new concept that is street food. Rather than focuson intricate presentation, street food provides the authentic touch that makes a lively break from therun of the mill Indian restaurants that are part of the fabric of Britain's cuisine.
Hassan Khan is the founder of Thali Catering,a pioneering new street food outlet. His inspiration came whilst travelling across India and Pakistan, discovering that there is no such thing as curry powder and that the food is not universally hot! Most of all, he learned that the best food was not to be found in 5 star restaurants, but with street vendors.
Hassan became fascinated by the whole concept of outdoor eating, "it is diverse, flexible, a great way to socialise, and casual. There are no formalities – you line up and watch your food being cooked for you. Where you stand is where you eat". Together with business partners, Hassan launched Thalis, determined to bring this kind of cuisine to the UK scene as well as servicing private functions. They find that most of their customers are looking for, "more than the standard wedding fare of tandoori chicken and biryani". Instead, Thalis offer themed functions with top-notchchefs from the subcontinent, faithfully reproducing authentic recipes. "We can cook charcoal grilled kebabs in front of your guests, provide display tandoori ovens or set up a chaat vendor stall at your chosen venue," says Hassan. Thalis can cater for up to 4,000 guests with an eclectic range of delicacies and services.
Thali Catering
Unit 8, Grand Union Centre
West Row (off Kensal Road)
North Kensington
W10 5AS
Tel: 020 89698788
thali@mail.com
Fish Amritsari

Cod fillet 500g
Batter:
Ginger garlic paste 1 Tbs
Red chilli powder 1 Tsp
Turmeric 1/2 Tsp
Garam masala 1/4 Tsp
Carom seeds 1/2 Tsp
Lemon juice 2 lemons
Water 3 Tbs
Salt 1 Tsp
Gramflour 2 Tbs
Cornflour 1 Tbs
• Ensure fillet is dry
• Mix all ingredients together to form a runny paste
• Mix cod with paste and leave for 20 mins
• Deep fry fish over medium heat until crisp.
Malai Chicken Tikka

4 Chicken breasts (boneless and skinless), each cut into two pieces.
Marinade:
Ginger garlic paste 1Tbs
Greek yoghurt 4 Tbs
Cheddar cheese, grated 2Tbs
White pepper powder 1/4 Tsp
Mace, green cardamom and nutmeg powder 1/2 Tsp
2 green chillis
single cream 2 Tbs
salt 1 Tsp
• Mix all ingredients for marinade together.
• Coat chicken breast in marinade and leave for two hours in a cool place.
• Skewer chicken breast and cook in preheated oven at 200C/ gas mark 6
for 15 mins.
Achari Paneer

Paneer 500g
Marinade:
Gramflour 3 Tbs
Single cream 50ml
Greek yoghurt 100g
Red chilli powder 1 Tsp
Garam masala 1 Tsp
Turmeric 1 Tsp
Mint leaves, chopped 2 Tbs
Salt 1 Tsp
For stuffing:
Mixed pickle 5 Tsp
• Cut paneer into 4 com squares, 2cm thick
• Make small sideways incision in each piece of paneer and fill
with mixed pickle
• Mix all ingredients for marinade together
• Coat paneer with marinade and leave in cool place for 20 minutes.
• Skewer paneer and cook for 10 minutes in a preheated oven at 200C/
gas mark 6.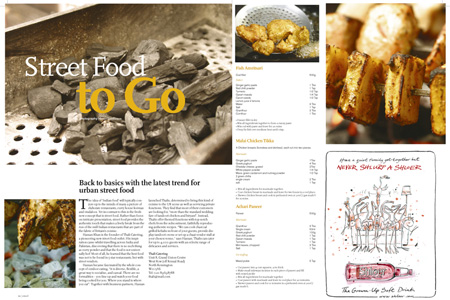 Share this


Link to this
Printer Friendly