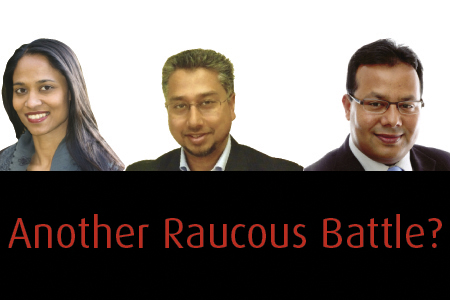 Another Raucous Battle?
Issue 67 April 2010
George Galloway overturned a safe Labour seat in 2005, winning it for Respect. Galloway is standing down, but who will take over this East End crown?
Every election there are always some constituencies which provide extra interest, that little bit of frisson amidst the more mundane party political broadcasts. Remember Martin Bell standing as an independent candidate in Tatton in the 1997 general election, with Labour and Lib Dem candidates standing down so he could beat the incumbent Conservative MP? Or remember in the 2005 election, Independent Reg Keys polling 10% of the vote in Tony Blair's Sedgefield constituency on an anti-war ticket and his moving speech about his son who died in the Iraq war? Or remember George Galloway unseating the incumbent Labour MP Oona King in a bitter and venomous battle for Bethnal Green and Bow in 2005?
Keeping his "one term only" promise, Galloway is standing down in Bethnal Green and Bow (BGB) to stand in the newly created constituency of Poplar and Limehouse against Labour MP Jim Fitzpatrick, presenting commentators with another potentially raucous battle to commentate on. This leaves BGB with no incumbent MP and a right royal battle lined up.
Traditionally BGB was a safe Labour seat with a 10,000+ majority. The large Bengali community who make up 35% of the local population had been faithful Labour supporters. Galloway changed all that winning by 823 votes. Now that he is moving on there is everything to play for.
The Labour candidate hoping to regain BGB for the party is Rushanara Ali. A case of "local girl done good" Ali was educated at Mulberry School and Tower Hamlets College before gaining a place at Oxford University. Given BGB is traditionally a Labour seat, and Galloway's margin of victory so small, Ali is in with a strong chance of winning, although it remains to be seen if the internal problems the local Labour party are facing in BGB will affect campaign momentum.
Respect are fielding another local Bengali candidate, councillor and leader of Respect on the council, Abjol Miah. Galloway was able to capitalise on the strong anti-war sentiment within the Muslim community in BGB, but five years on who can say whether that sentiment will be strong enough to propel another Respect candidate to Parliament. And even though Miah has a strong background in community work in the area, he is not the high profile Parliamentary veteran of Galloway.
The Lib Dems are traditionally in fourth poll position in BGB. The party is hoping that the popular broadcast journalist and community development adviser Ajmal Masroor will change their fortunes. Given Masroor's strong following on Bengali satellite channel "S" as well as the Islam Channel, the Lib Dems could be in with a chance of capitalising on possible swings away from both Respect and Labour.
It would have been interesting if the Conservatives had not picked a Bengali candidate for BGB, as they could have benefited from the three way split on the Bengali vote and picked up disillusioned voters from other communities. However local Zakir Khan won the Conservative Party nomination invv an open primary, meaning the three main parties and Respect are all fielding a Bengali Muslim candidate. Khan won the primary with 200+ supporters turning up to vote him onto the ballot. He will have to multiply that support manifold if he is to be in with a chance of gaining this seat for the Conservatives.
Bethnal Green and Bow is in a part of the East End that has been has been home to some radical politics over the years. With a succession of immigrant communities from the historic Huguenots to recent Somali refugees, its population has been simultaneously poor and diverse. With cries of "Entryism" already being levelled against some segments of the large Bengali community who are gaining in political engagement, this is not going to be a pretty election battle. The Bengali Muslim vote is pivotal to the outcome of the election, but with it being split four ways, the successful candidate will almost certainly be the one who engages with the wider population as a whole. For all the candidates there is everything to play for in BGB, but one this is for sure – whatever the outcome it will produce the first Bengali Muslim Member of Parliament ever.
Rushanara Ali - Labour
Hoping to win the seat back for Labour, Oxford educated Ali, who has plenty of political and policy experience, has a tough fight on her hands.

Abjol Miah - Respect
Miah has strong community work credentials, but whether these are enough to retain this seat for Respect remains to be seen.

Zakir Khan - Conservative
Hoping his education at the "University of Life" will help, Khan is fighting a seat which is, on paper, one of the least winnable seats for the Conservatives.
Ajmal Masroor - Liberal Democrats
With four Bengali Muslim candidates splitting the large Muslim vote, the question is whether Masroor can win over the rest of the electorate to win this seat for the Lib Dems.
Share this


Link to this
Printer Friendly