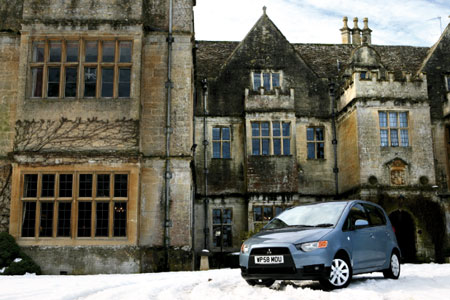 The Camel Diet
Issue 67 April 2010
The 'super mini' on an eco-diet, Fazeel Ashraf discovers how the Mitsubishi Colt Cleartec sheds pounds just like the new camel diet.
For the next few months, I've been set the task of watching what I eat. My task is not to put on any weight yet at the same time I'm not allowed to lose any. With my pending nuptial approaching in the summer, I've had to have myself measured up for my wedding attire. After all, one does need to make the effort to look good for the wedding photographers. For some reason my weight fluctuates quite easily so if I partake in too much exercise I will end up looking like a Hobbit wearing John Prescott's suit and if I eat too much, well then ….we all know what Homer Simpson looks like. And herein lies the problem; you see, I'm a little bit partial to the old chicken burger or a slice of pizza so I've had to come up with a solution to fulfil my fast food fix - and here it is. Ladies and Gentlemen, I present to you the recently introduced camel Burger. Yep that's right, for £3.20 you can get the finest camel patties which contain virtually zero cholesterol and are completely fat free. You can even eat the fries without feeling guilty! To finish off, there's a nice camel milkshake to savour as an aftertaste. (Just to clarify and avoid confusion, the milkshake is not made out of actual blended camel but rather just from camel milk). Sounds like the perfect solution except it will cost you over £400 for home delivery as the closest place to buy them is a fast food chain located out in Dubai. So, while I'm waiting for my camel burger to be delivered, I've been given the chance to check out the new Mitsubishi Colt Cleartec– a supermini on its own eco-diet.
If you look at the Colt head on, it bears the jet fighter nose similar to that of the superfluous super car slayer of its big brother the Mitsubishi Evo. Unfortunately, bar that one resemblance, the rest of its exterior charm appears to go down hill. Now, I'm not saying it's an ugly car or even uneasy on the eyes, but when you have the likes of Ford giving us the beautifully sculpted Fiesta or even the new KA, the Mitsubishi Colt is positively bland. If you're buying this car for its looks then I'm sorry to say, 'You should have gone to Specsavers'. With straight lines and a near flat rear end, it passes you by without any emotions and just blends into the background. On closer inspection, there's not much to give away on what lies underneath except for a small little badge saying 'ClearTec'. Yes, that might sound like a new line of dishwasher powder or acne cream but it's the key recipe that makes the Colt a serious car to consider – more about that later.
Seat yourself inside the Colt and the rather dull outer aesthetics are somewhat reinforced inside with an uninspired console. However, it's not all bad news as the Colt offers a great bag of goodies normally reserved for larger cars. For little over £10,000, expect to have air conditioning, electric windows/ mirrors and remote steering-wheel audio controls all as a standard package. What was even more astounding was my discovery of the cruise control buttons. I can't ever recall seeing cruise control on a car of this size. Furthermore, there's plenty of space inside for four adults without complaint or compromise needing to be made over shopping space. There is no concession on safety either with airbags, traction control and brake assists amongst others. So maybe it is shaping up to be a fairly competent supermini!
To enjoy the rest of this feature, get your latest issue of emel magazine >Read Below<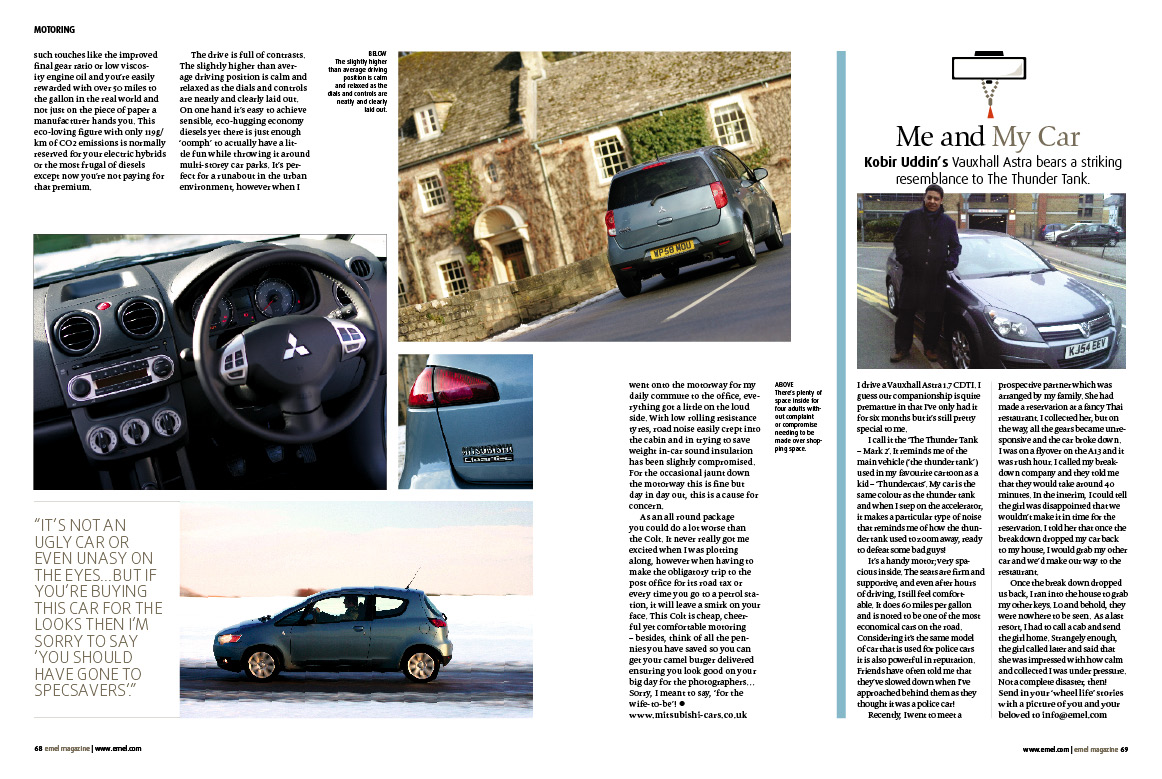 1) Delivered to your door for only £3.50 with FREE Postage and Packaging
You can get your latest issue of emel with FREE Postage & Packaging.
Click here for terms and conditions
Call us on 020 7328 7300 or email info@emel.com.
2) Find your Local Stockist
Your latest issue of emel is also available in stores nationwide including WHSmith and Borders.
3) Subscribe for one year - now only £29.95
You can subscribe for only £29.95 (that's 50% off the standard UK subscription price) and get 12 issues delivered straight to your door, every month..
Call us on 020 7328 7300 or email info@emel.com
Share this


Link to this
Printer Friendly