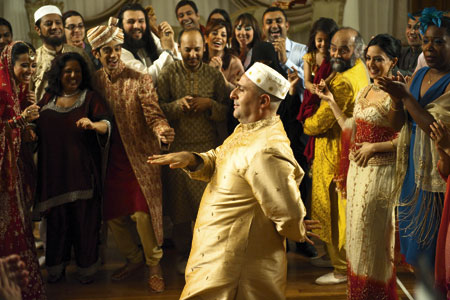 The Infidel
Issue 67 April 2010
FILM
Review by Sahar Beyad
The Infidel is a film about a British Asian Muslim who turns out to be Jewish. Meet Mahmud Nasir (Omid Djalili), a successful mini cab owner, who with his beautiful wife has two loving children. Mahmud's son Rashid (Amit Shah) is getting married and while this should be a time of rejoicing and excitement for the two families, Mahmud's family is faced with a problem – Rashid's new father in law is a fanatic Muslim cleric! If he does not think Mahmud's family to be 'Muslim' enough, (as in conforming to strict religious practice), the marriage will not take place. Whilst trying to prove to his hard-line future father in law that he is a practicing Muslim, at the same time, Mahmud stumbles upon a discovery about himself and the timing couldn't be worse! Not only does he find out that he's adopted, but his birth parents were Jewish and his real name is Solly Shimsillewitz!
This comedy of 'ethnic proportions' shows Mahmud in the midst of an identity crisis as he seeks help and advice from a Yankee Jewish London cabbie; Lenny (Richard Schiff), about what it means to be a 'good' Jew. As spectator, I found myself attending both a Jewish Bar mitzvah and Muslim wedding all in the span of 2 hours.
Written by Jewish born David Baddiel, the movie is set in the East End of London representing the local everyman. Mahmud's character, mirroring the location, is a representation of the ordinary Joe Blog's. Baddiels use of this East End setting and everyday family allows the audience to stay focused on the comic, yet at some points, absurd storyline. Whilst the humour centres on Mahmud's identity crisis, comical references about Islamic fundamentalists prevail throughout – with Mahmud referring to Rashid's father in law as "Arshad al-******* Stalin." Baddiel's references to Muslim fanatics such as this one may upset some members of the Muslim community (thinking it is a mockery of the faith); however what he does is successfully adds humour to stereotypes most are afraid of talking about in public. Personally I think it was rather brave of Baddiel to go down the route of exploring religious stereotypes, and using mockery rather than satire.
Share this


Link to this
Printer Friendly