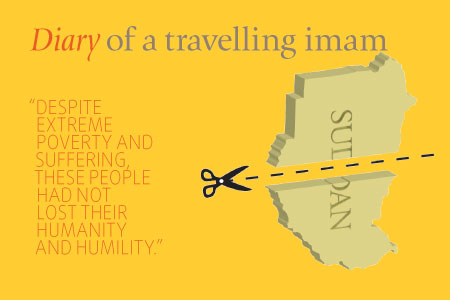 Sudan Part I
Issue 67 April 2010
Parting is sweet sorrow, especially when leaving behind a family. I was travelling to Sudan to observe the building of water wells and the day to day running of orphanages after helping to raise funds for the projects and was excited about my first experience of fieldwork with the UN Refugee Agency (UNHCR).
Arriving at Khartoum airport, I was a little on edge. The passport control and immigration systems at airports in Muslim countries are always unnerving. However, putting that aside, I joined a queue of passengers waiting to be let through, but was turned back and sent to a room without any explanation. After some deliberations on whether or not I should be allowed to carry my camera, I was let through with the help of my hosts who had arrived to take me to my hotel.
I had slept barely four hours when I had to be up for a meeting with the chief of the Refugee Agency and then the head of the mission, Peter, a Dutchman who explained to me the role of the organisation in the humanitarian work being done by his office in Sudan. He was mainly concerned with the large numbers of refugees arriving from Eritrea to the eastern part of the country.
My local guests informed me that there is a referendum scheduled for this month to bring an end to the long civil war that has devastated the country and caused instability but the fear is that it will lead to division; the South, with its large Christian population would become independent when it does not have the capacity to be an independent state. The concern also is that this division may serve the interests of outsiders and cause further instability in the region with some blaming America and Britain for interfering with the country's internal affairs.
I asked Peter if he felt the division was a good idea. "I have no comment either way. If people in the South vote for an independent state, we will support that. We have two offices already so it won't be difficult for us to continue providing the support to the displaced and refugees of the region," he replied.
In the afternoon, we drove out of town to an orphan day centre. Guardians or mothers of orphan children would drop in to participate in various activities including; reading and writing programme for adults, English language programme for older children, crafts and painting and skills training such as sewing and bag making for mothers. I was very happy to see the activities of the centre and was overjoyed to learn how mothers are finding hope again and children were finding stability in their lives.
The next morning, I embarked on a nine-hour drive to Gharghor, located in South East Sudan and 600km later, we arrived at a local medical centre. The centre had several wards; very basic facilities and equipments littered the corridors. Beds were made of steel frames, nylon interwoven strings provided the base of the bed and a simple cotton sheet barely covered the structure. The four posts needed to hang the mosquito nets on were pulled out of a tree and simply planted at four corners of the bed; bark fibre and small branches still attached.
I was accompanied to the centre by a Syrian born British dentist from Cumbria who had donated a mobile dental clinic, it was an ingenious project and extremely effective. The dentist saw hundreds of patients and carried out life saving treatments, which I was fortunate to witness. One gentleman in particular stayed with me. He was HIV positive and had gum cancer. After his check up, the dentist determined that his teeth and gums were infected and required extraction. The man however, refused treatment. When I asked him why, his answer brought tears to my eyes. He said, "I'm HIV positive, if he extracts my teeth to treat my gum cancer, the treatment means I would put the dentist at risk. I don't want to do that." With that, simply walked away.
My trip to the clinic was a very humbling experience and one that I will not forget. I learned that on one hand there is extreme poverty and suffering but these people had not lost their humanity, humility or dignity. Ironically, in the richer parts of the world, greed and selfishness have already destroyed the basic human compassion upon which mankind functions.
Share this


Link to this
Printer Friendly