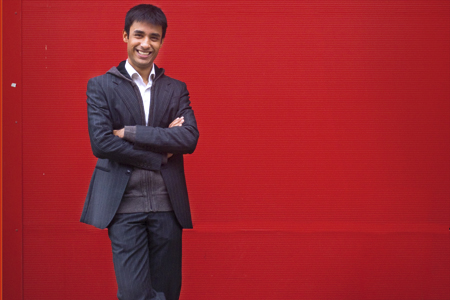 Watch This Face - Sabirul Islam
Issue 67 April 2010
Five years ago, a rather confident 14 year old Sabirul Islam walked into the Merrill Lynch offices in St Pauls and pitched his web designing services to one of its top executives. Impressed by Sabirul's professionalism, the executive signed a contract for the design of a web page to accompany a section of the Merrill Lynch website. Two weeks and a £1000 fee later, Sabirul walked away from his satisfied clients at Merrill Lynch and web designing altogether, now on the hunt for something more challenging.
 At 19, Sabirul has gone from swiftly conquering one challenge to the next. After his bestselling book 'The World at Your Feet' sold more than 42,000 copies in the first nine months of release, Sabirul went on to create 'Teen-trepreneur'; a board game inspiring youth to 'strike as the next tycoon' and launched a second edition of his book. Recipient of the 2008 Mosaic Entrepreneur Award, Sabirul is now a columnist for Ambition Magazine, advising 25 to 35 year olds on how to become successful entrepreneurs.
 Currently in discussion with the BBC to develop a cartoon script, there appears to be no stopping Sabirul Islam from embracing the world, which he is convinced 'lies at his feet'.

Portrait
Bilal Yusuf
Click here to read more profiles.
Get your latest issue of emel magazine >Read Below<
1) Delivered to your door for only £3.50 with FREE Postage and Packaging
You can get your latest issue of emel with FREE Postage & Packaging.
Click here for terms and conditions
Call us on 020 7328 7300 or email info@emel.com.
2) Find your Local Stockist
Your latest issue of emel is also available in stores nationwide including WHSmith and Borders.
3) Subscribe for one year - now only £29.95
You can subscribe for only £29.95 (that's 50% off the standard UK subscription price) and get 12 issues delivered straight to your door, every month..
Call us on 020 7328 7300 or email info@emel.com
Share this


Link to this
Printer Friendly