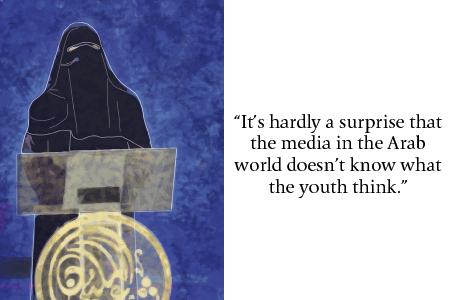 More than Words
Issue 68 May 2010
What matters more than what a niqab-wearing Saudi poet said is what happened after she said it. The words of Hissa Hilal cause uproar in the Arab world.
It's one of those stories that is reported in the most unexpected places and in a counter-intuitive way. Hissa Hilal, a niqab-wearing poet from Saudi Arabia made headlines around the world when she used her appearance on the Arab reality TV show 'Million's Poet' to attack clerics in her native country. The Daily Mail put her on its front page, a curious choice for the newspaper. Yet Hilal herself is curious to many: a niqab-wearing woman who speaks out about religion.
If you missed it, the story ran like this: Million's Poet is an incredibly popular reality TV show across the Arab world. Similar to the X Factor, contestants recite poems (in the Arabian Nabati style) and a panel of judges, plus votes from the audience in the studio and at home, decide who goes through to the next round. It is a typically Arab twist on a popular genre: while some reality TV shows, like those involving singers and dancers, have been transferred whole to the Arab world (mutatis mutandis, of course), Million's Poet is an attempt to reflect the deep heritage of the region.
It has worked and the show regularly attracts millions of viewers. Last month it added many more when Hissa Hilal took to the stage to denounce what she called 'subversive fatwas', "When I unveil the truth, a monster appears from his hiding place...he speaks from an official, powerful platform, terrorising people...the voice of courage ran away and the truth is cornered." Her words - widely seen as aimed at a particular Saudi cleric who suggested those who opposed gender segregation ought to be killed - brought huge applause in the studio, praise from the judges, and headlines in many languages around the world.
The way the story was reported in English was as a plucky young woman standing up against a conservative society. But that's not how it looked in Arabic. Indeed, the most astonishing aspect of her appearance was how many people clearly agreed with her: what she said wasn't as surprising as the way she said it. Hilal was merely reflecting what they already thought. She was not ahead of her time, but quite contemporary, giving voice to what is always widely known.
It's hardly a surprise that the media in the Arab world doesn't know what the youth think - media, and not just in the Arab world, tends to be dominated by those over 30. The difference is that the number of young people is so significant in the region, that the region is undergoing widespread change and that these young people don't have a clear way of expressing their views - with the concomitant result that most of the media has no way to understand what young people think.
So, when someone like Hilal expresses a view that goes against their current thinking, it takes on wide resonance - and Hilal has been praised on blogs across the region. (She has had her detractors too, naturally, with some extremist sites even appearing to suggest threats against her life.) Using a platform like a TV show to rail against some of the most deep-seated power structures in her country is a brave thing to do but Hilal, in subsequent interviews, has denied she is a hero in any way and sought to minimise the limelight that has been shone on her and her family.
How much difference her words make remains to be seen. But in one important way, they have already achieved their goals. Hilal has shown that there are millions of people who think the way she does - and many who are not afraid to come out and say so.

Faisal al Yafai is a journalist. He received the Ibn Battuta Award for Media in London last month and is a Churchill Fellow for 2009/2010.
Share this


Link to this
Printer Friendly