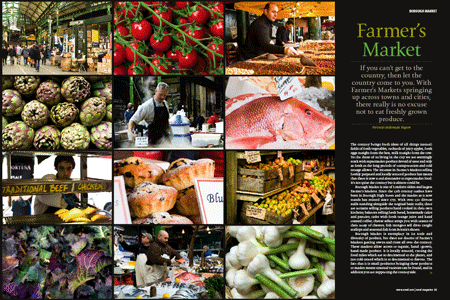 Borough Market
Issue 68 May 2010
If you can't get to the country, then let the country come to you. With Farmer's Markets springing up across towns and cities, there really is no excuse not to eat freshly grown produce.

Portraits Mahmuda Begum
The country brings forth ideas of all things natural: fields of fresh vegetables, orchards of juicy apples, fresh eggs straight from the hen, milk straight from the cow. Yet for those of us living in the city we are seemingly stuck with supermarket produce devoid of taste and only as fresh as the long periods of transportation and cold storage allows. The increase in Farmer's Markets selling freshly prepared and locally sourced produce has meant that there is now a real alternative to supermarket food. It's not quite the country but it almost could be.
Borough Market is one of London's oldest and largest Farmer's Markets. Since the 13th century traders have been in Borough High Street and the market as it now stands has existed since 1755. With over 130 diverse stalls standing alongside the original basic stalls; there are artisans selling products hand cooked in their own kitchens; bakeries selling fresh bread, homemade cakes and pastries; cafes with fresh orange juice and hand roasted coffee; cheese sellers tempt you with tasters of their array of cheeses; fish mongers sell diver caught scallops and seasonal fish from Britain's shores.
Borough Market is exemplary in its scale and diversity of produce, but there are dozens of Farmer's Markets gracing towns and cities all over the country. These markets allow access to organic, hand –grown, hand-made produce. It is locally sourced, cutting the food miles which are so detrimental to the planet, and not cold-stored which is to detrimental to flavour. The fact that it is small producers bringing these products to market means unusual varieties can be found, and in addition you are supporting the countryside.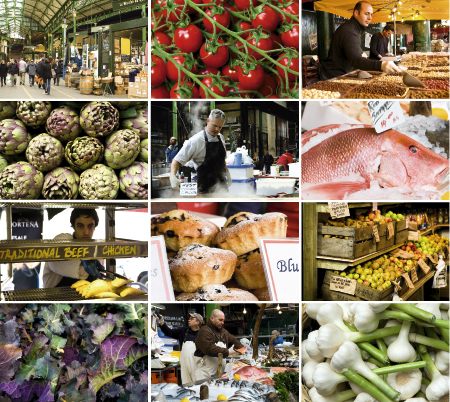 To enjoy the rest of this feature, get your latest issue of emel magazine >Read Below<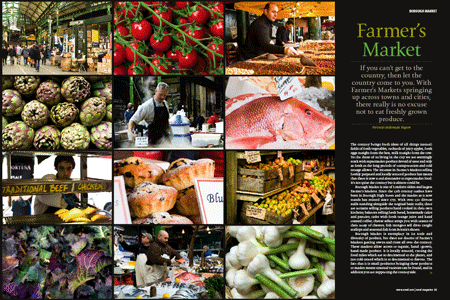 1) Delivered to your door for only £3.50 with FREE Postage and Packaging
You can get your latest issue of emel with FREE Postage & Packaging.
Click here for terms and conditions
Call us on 020 7328 7300 or email info@emel.com.
2) Find your Local Stockist
Your latest issue of emel is also available in stores nationwide including WHSmith and Borders.
3) Subscribe for one year - now only £29.95
You can subscribe for only £29.95 (that's 50% off the standard UK subscription price) and get 12 issues delivered straight to your door, every month..
Call us on 020 7328 7300 or email info@emel.com
Share this


Link to this
Printer Friendly