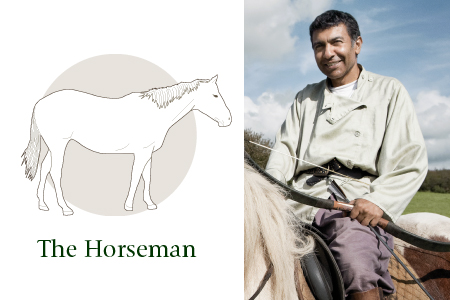 The Horseman
Issue 68 May 2010
Iftikhar Ahmed lives on a smallholding and runs horsemanship weekends with archery in Pembrokeshire, Wales.

I was born in Kampala, Uganda, and came to London aged 10. I grew up as any other Londoner. I left school at 16 and went into advertising working as a 'transparency retoucher'. Having reached the top of my profession, I began suffering from the pressure I was working under. I was also beginning to question what the industry stood for. When I was made redundant in 1999, I faced a life-changing decision. I chose to give up on London and on advertising altogether.
For me, moving to Pembrokeshire was like being a duck in water, but for my ex-wife and children it was very hard. Two of my children had just finished school so for them it was difficult to start anew; all their friends were in London. It was much easier for my younger child to adjust.
Very quickly I had to learn how to be a lot more practical. In my first two years, I learned to work on a trout farm because we could not carry on living on our savings. Because we had a smallholding, I learned how to look after sheep, how to build, and I also started learning how to work with horses. I now run a horsemanship school here with a partner.
After the honeymoon period, the reality of our move started to hit home: there were no breaks, animals had to be fed and cleaned, fences had to be fixed. The work was harder and more physical but, for all that, I started to feel cleaner within myself.
My life has changed a lot. Before, I used to waste so much but now I recycle most things. I am a lot happier with the simple things in life whereas before I had to have the latest fashion or gadget. I also followed my love of music. We started a band playing spiritual music and we teamed up with some whirling dervishes and played all over Britain.
Pembrokeshire is a very positive place to live with many musicians and artists. The nearest 'big' town is about 25 miles away, the doctor is 15 miles away and Tesco about 10 miles. Finding work is difficult but, for me, being in the country is just a lot more peaceful. I see my neighbours quite often. We have a lot of things in common and I have not faced any prejudice here. I would make the same decision again but I would be a lot more patient with my family and not judge their settling in on my own timetable.
For more information, visit:www.noble-arts.net
Share this


Link to this
Printer Friendly