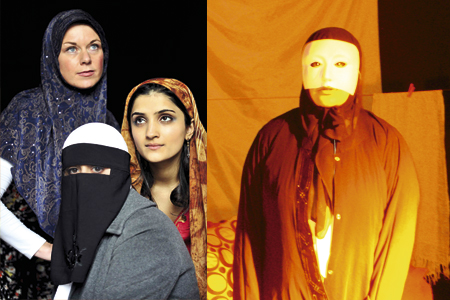 Hijaab
Issue 68 May 2010
Directed by Conor Ibraheim
Review by Nuzhat Ali
What would the Hijaab say if it could talk?
"Look at me and be honest; do I look like a piece of cloth that goes around looking for trouble? Of course not. I just mind my own business. So how come I ended up being the centre of attention? I just wanted to provide a function like any other good garment."
'Hijaab' is the debut production from Arakan Creative. Conor Ibrahiem (Artistic Director at Arakan Creative) is an actor and script writer and has definitely set a standard for others to follow.
Hijaab is a multi-faceted discussion around the perception of the veil from a variety of views ranging from the racist Islamophobe, the Dean who bans niqab because it is a threat to security, to the parents worried about their image (of appearing too strict!)
Hijaab is a concept portrayed through the eyes of three very different women, all struggling with the realities of their identity as Muslims. It is an honest portrayal of the debate over the necessity and amount of covering required of Muslim women. It touches on issues of freedom of choice, freedom of expression, levels of responsibility and 'no compulsion in religion'.
The play is very well researched and there is good use of Qur'an and hadith to back up the arguments for and against differing opinions. Humour is used continuously and very effectively, adding a dimension which lightens an otherwise heavy discussion by adding a touch of reality.
The portrayal of the new convert to Islam and the attitude of one of her Muslim friends towards her Christian mother opens up another dimension which requires some soul searching and reflection on the part of the Muslim community. Can we truly accept new Muslims without accepting their families, in the name of common humanity at the very least?
Hijaab is presented with depth, humour, honesty and integrity; of course there are no definitive answers and the play does not aim to provide them. What it does do is provide plenty of food for thought.
www.arakancreative.co.uk
Share this


Link to this
Printer Friendly