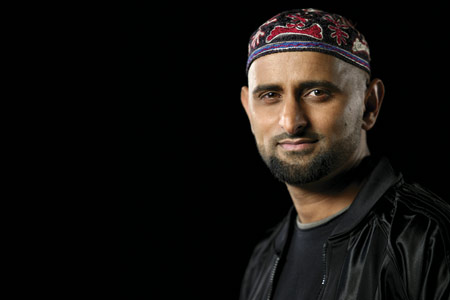 Changing the World - A profile on Zain Bhikha
Issue 69 June 2010
South Africa is hosting the 2010 World Cup. Yet it was a pariah on the world scene, a country beset with institutionalised racism and bigotry. Amidst this horror grew up a compassionate and caring young man, who was to become an internationally acclaimed singer. Nisa Terzi meets Zain Bhikha and finds out his plans to change the world.

South Africa, 1994, and Zain Bhikha is nineteen years old. His country is freed from the shackles of Apartheid and elects Nelson Mandela as President. A mood of excitement and anticipation fills the lives of young South Africans like Zain and his childhood friend Mubeen. But little does Zain know what awaits him. That same year, Mubeen is shot dead. Zain would later write a song about his friend entilted "I remember your smile."
The death of Mubeen was the defining moment in the life of a man who is now a music celebrity in the English speaking Muslim world. Up until then, Zain had thought death happened only to the old and sick; but he and Mubeen were young and strong: they were invincible.
After Mubeen's shooting, Zain was pushed to his emotional limits. He started questioning himself. "It was a big reality check for me as I thought to myself, 'What is life all about? Where did I come from? Where am I going? What is my purpose?'"
Soon after the tragic event, there was a competition held at a local radio station. That day, Zain poured his heart and soul out into his home karaoke machine. He won the competition and he has been singing ever since.
Last year marked 15 years of Zain's singing career. His first cassette was called, 'A Way of Life' of which he made 500 copies and handed out to his friends and family. In 1999 Yusuf Islam invited Zain to London to record the album 'A is for Allah'. During his stay Zain met his now friend and close companion, Canadian artist Dawud Wharnsby. "The three of us were sitting at a table and discussing why there were so few of us. We needed to encourage each other to use whatever we had for a greater purpose," he expalins.
Zain attributes his success to the support of his family. His father, Professor Rashid Bhikha, grew up in a working class family where his mother had struggled to put him through college. All Rashid ever wanted was to become a pharmacist - he had a dream to make medicine. Ultimately, Professor Bhikha took out a loan, bought a machine and built the company Be-Tabs Pharmaceuticals which is now the largest pharmaceutical company in South Africa.
"I grew up with my father as an example," Zain recounts fondly. "He showed me that you can do something from nothing. He is a man of great integrity. He would speak to everyone with equal respect, and he taught me these lessons."
Professor Bhikha is the founder of The Ibn Sina Institute of Tibb, a non-profit charity organisation providing affordable healthcare for South Africa's poor. Zain is the director and trustee of the organisation which now wholly owns Zain Bhikha Studios.
Zain's mother, Miriam, worked with a cancer association, which meant she came across many very sick patients. Zain says that because she is a woman who has seen a lot of pain, she has great compassion. "She is my harshest critic; whenever I write a song she asks why did I do this and that. But she is very honest. I'm her only son so she spoils me a lot," he smiles cheekily.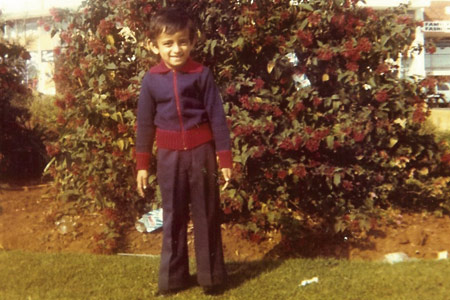 Zain has great concerns for youth within his community and abroad. He understands the many dangers that children may be exposed to, and provides an alternative through creative workshops. Titled "The Art of Creative Expression", these one-day workshops are aimed at inspiring youth to utilise their creative talents to benefit themselves and their communities. Zain aims to take these workshops to many countries throughout the world. He is also conceptualising the idea for a youth project titled 'Urban Poet,' which will include singing, writing and recording of songs by young people from around the globe.
Zain himself is a father to four sons, who are his pride and joy. The eldest, 17-year-old Rashid has been singing alongside his father from an early age and thus the duo has always had a close bond.
"We remain very open and honest with each other. I try not to be judgemental, as that is a common mistake with parents. I stay closely involved in his life. I attend his football training sessions and his games passionately and try to stay in touch with his life and challenges. I try to give him the broader understanding of faith, let him see the bigger picture and how to respect all people and try to make a difference in the world. I am very proud to say that he is growing into a good, strong and responsible young man."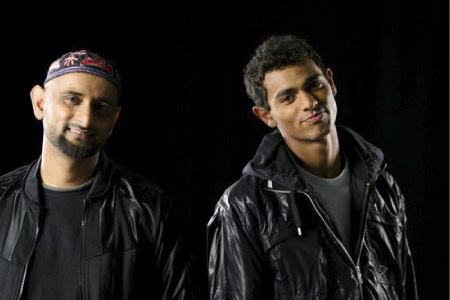 Alongside his family, Zain had encouragement from the two artists who worked with him in the early days of his career. Yusuf Islam was his first inspiration because he allowed him to grow. He saw something in Zain which he didn't see in himself. "With him I've learnt the difference between being a Muslim and living as a Muslim. I learnt that Muslim is not a noun, it's a verb. It's a doing word," explains Zain.
Images by Yip Photography
To enjoy the rest of this feature, get your latest issue of emel magazine >Read Below<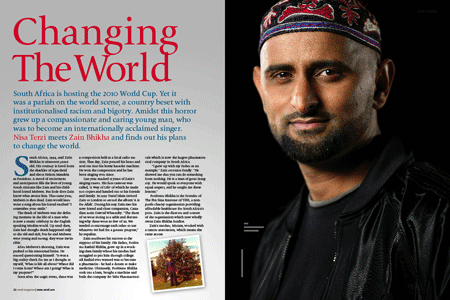 1) Delivered to your door for only £3.50 with FREE Postage and Packaging
You can get your latest issue of emel with FREE Postage & Packaging.
Click here for terms and conditions
Call us on 020 7328 7300 or email info@emel.com.
2) Find your Local Stockist
Your latest issue of emel is also available in stores nationwide including WHSmith and Borders.
3) Subscribe for one year - now only £29.95
You can subscribe for only £29.95 (that's 50% off the standard UK subscription price) and get 12 issues delivered straight to your door, every month..
Call us on 020 7328 7300 or email info@emel.com
Share this


Link to this
Printer Friendly