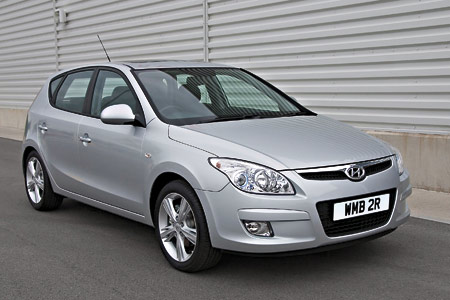 The Korean Hatchback
Issue 69 June 2010
Always the bridesmaid, never the bride, Fazeel Ashraf asks whether Hyundai can turn heads with the hatchback.
In case you haven't realised, the 2010 FIFA World Cup is upon us and the question on everyone's mind is 'does England have what it takes to get to the top?' I certainly hope so but then again, do we not hear at every major tournament that 'this is England's year and the best chance they have ever had?' Maybe it's me but why get your hopes up only for them to be crushed? It's like when you wait forever to watch a movie that every single person is talking about, only to go and find out that staring at your foot would have been a more productive use of you time. There is a fine line between finding the balance amongst pessimism, optimism and of course reality. Needless to say, when every single pundit, Tom, Dick and Haroon are utterly convinced that England will be lifting the trophy, it's hard to change peoples mind but a philosophy that is serving me well these days is: if you don't have high expectations, then you can't be disappointed. So when it comes to cars, I've been taking off the rose tinted glasses and instead trying to smell the gasoline so to speak.
Despite the increasing competition in the small car market, which is populated by dozens of promising vehicles, Hyundai hopes to make an impact on small car buyers. This particular Hyundai is Korean in origin and European in its execution. The i30 has been designed for the same purposes as Focuses and Golf's out there; to provide urban transport that's easy to get around in, fuel efficient, value for money and desirable.
From a styling perspective, it's hardly the most striking of cars; it is not what I would call 'cute' either. The exterior design is best described as safe – a little too safe for some – but nonetheless it doesn't look dated. The interior finishes are a mixed bag, with door caps and console of cheapish hard plastics (the industry standard at this end of the market) offset by classy, textured, soft-touch material over some of the facia. The seats and driving position are not to everyone's taste but I had no trouble getting comfortable and staying that way, including long extended runs. The seats could be a tad more supportive under hard braking conditions and cornering, but this isn't a car made for such hard-man stuff. Equipment is generous for the i30, with items such as steering wheel controls and iPod connections part of the standard package along with the usual air conditioning, electric windows and alloy wheels just to name a few.
You can check out more motoring features here

To enjoy the rest of this feature, get your latest issue of emel magazine >Read Below<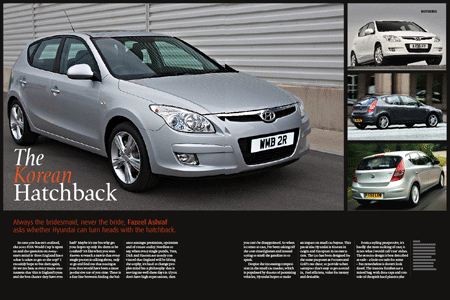 1) Delivered to your door for only £3.50 with FREE Postage and Packaging
You can get your latest issue of emel with FREE Postage & Packaging.
Click here for terms and conditions
Call us on 020 7328 7300 or email info@emel.com.
2) Find your Local Stockist
Your latest issue of emel is also available in stores nationwide including WHSmith and Borders.
3) Subscribe for one year - now only £29.95
You can subscribe for only £29.95 (that's 50% off the standard UK subscription price) and get 12 issues delivered straight to your door, every month..
Call us on 020 7328 7300 or email info@emel.com
Share this


Link to this
Printer Friendly