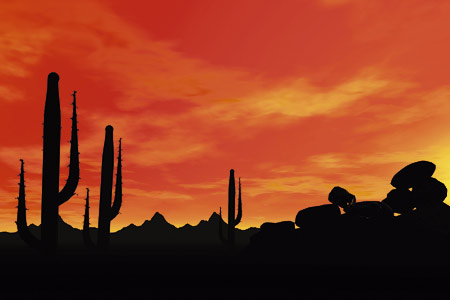 New Mexico Old Traditions
Issue 69 June 2010
I landed at El Paso International Airport in Texas. It was a warm day, and as I walked out of the airport I was not only hit by the heat, I remembered that this was the hometown of my worst leader of the Western world, George W Bush.
Once a major copper refining area, El Paso now manufactures clothing, construction materials, electronic and medical equipment, and plastics. Cheap Mexican labour helps keep the costs down. El Paso's climate and natural beauty also means tourism has become a booming industry; we hired a car and travelled out towards Santa Fe. It struck me that there were few white faces – the population consisting mainly of Native American and Latinos.
I headed towards New Mexico, arriving in Las Cruces – a city that had an authentic South American/ Spanish feel, and also an Islamic influence. Even the names seem to have an Arabic resonance for our next stop was Al Morgado. There, we were met with one of the most amazing sights on God's earth - white sandy beach, so white it looked like banks of snow, yet it was 30 degrees. It dawned on me that God had given so much diverse natural beauty to American – almost every landscape, from mountains to deserts, lakes to forests can be found in this country.
In Albuquerque I walked into a shop and met a woman who was close to Islam and whose daughter had already converted and married a Palestinian. I wondered at the spread of Islam, that even in a tiny historic market in the middle of Albuquerque – made famous by Bugs Bunny – I would meet such a woman. I also contemplated the fate of the Palestinians who seem to have spread far and wide.
From Albuquerque I took the Turquoise Trail. It was filled with hippies, New Age cafes, down-shifters, those seeking a simple Christian life, as well as outstanding natural beauty.
I discussed American foreign policy with this mix of people, who felt their country had been held hostage by George W Bush, and although they were mostly right wing Christians, they did not like Bush.
In Santa Fe I found myself in a local bookshop. There I saw a man who looked exactly like Shaykh Hamza Yusuf. So convinced was I that I went up to him. He laughed out loud and said others had said the same. He was not a Muslim but explained how he believed that Islam had made a huge contribution to America.
Whist the beauty of our route was outstanding, the food was not good. We ate little of the local cuisine, and it was not until Santa Fe where we discovered an organic vegetarian Indian restaurant. Their rice and lentils were absolutely delicious. I later discovered the restaurant was an outlet for a Hindu missionary whose cheap, tasty and healthy food brought people in their droves and allowed him to dispense his wisdom and faith with the meals.
There is an underlying Islamic influence in Santa Fe. I could not put my finger on where it was coming from as there were no overt signs, but it was definitely there. This feeling was further enhanced when I met an alternative medicine practitioner in whose house I saw An Introduction to Islam. She explained that she had been attending a Sufi circle for over five years, and that whilst she had not converted to Islam, she loved the warmth and humanity she received at the circle.
It struck me as strange that even though Islam is a vilified religion, especially in America, people were taking an interest in the faith. My spirits were lifted by the discovery of so many people who had engaged with Islam and felt positively about it, even though the imam in Santa Fe mosque only spoke Arabic. I had a déjà vu of so many mosques in Britain and felt downcast. It is only when we have native-speaking imams that we will be able to fully engage with the people.
Native Americans run the casinos in New Mexico, whilst everyone else runs everything else. I was wounded by the way it was taking them from their history and traditions. Despite this, there is still an embedded Islamic spirit, but no Muslims. I went to a Native American chief and tribal leader. I ate with him and his people, and they shared their stories and their wisdom. I would say 90% of their culture, practices and traditions are identical to Islam. I could not work out whether this was because of an engagement with Muslims or just the natural fitra of every human.
Share this


Link to this
Printer Friendly