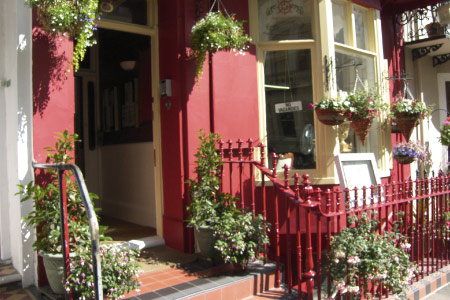 Brighton Marina House Hotel
Issue 69 June 2010
Review by Somaiya Khan-Piachaud
Catering especially for Muslim guests, Brighton Marina House Hotel has a strict no alcohol and no smoking policy, but this family run business has been giving a warm welcome to guests of all nationalities and backgrounds under its current management since 1987. The pretty seafront is just a short three-minute walk from the hotel, which is happily situated on a residential street, guaranteeing a peaceful night's sleep
Brighton Marina House Hotel offers a collection of boutique style bedrooms - many with four-poster beds - which turn the "bed and breakfast" experience into something far more luxurious. These rooms have all been imaginatively decorated with stylish fabrics, and the hotel's different themed rooms, including Tudor, Swedish, French, and Eastern rooms (some with handmade beds), make for something that is far more memorable than the banal décor of most chain hotels. All double, twin, triple and family rooms are fully en-suite, though be aware when booking that the hotel does not have a lift. The hotel offers guests all the requisite modern comforts you'd expect (TV, hairdryer, tea/coffee making facilities) combined with a peaceful, luxurious and romantic atmosphere. Free internet is available too.
It was my second time in the city, and my husband's first. We started our day with a hearty breakfast, taking advantage of the hotel's offer of a fully halal cooked English breakfast, prepared individually - a rare treat! There are comprehensive vegan and vegetarian options available too. We were delighted with the local knowledge of the hotel's friendly staff, who recommended neighbourhood attractions not to be missed out on during our short visit.
During our stay, my husband and I enjoyed a visit to the Victorian aquariums, and revelled in the traditional seaside fun of the famous Brighton Pier and pebble beach. There was something for everyone. Beautiful Sussex countryside, castles, country houses, parks, forts and gardens are just a short drive away from the hotel.
There are a heap of great restaurants to choose from, including a halal pizza take away only about 10 minutes walk – and free delivery. A number of halal sit and eat restaurants are also located nearby. Brighton has three mosques and the hotel management can easily direct you – the nearest is about nine minutes by car.
Also be sure to see the Royal Pavilion, the spectacular seaside palace of George IV, transformed between 1815 and 1822 into one of the most dazzling and exotic buildings in the British Isles. This was where injured Muslim soldiers were taken during the First World War. It's certainly worth asking the friendly hotel staff about the places they'd recommend - having been based in Brighton for over 23 years they know it best!
Share this


Link to this
Printer Friendly