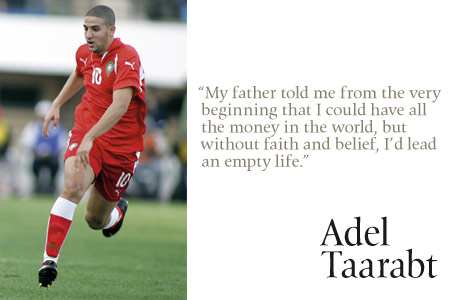 Adel Taarabt
Issue 69 June 2010
Adel Taarabt, whose national team is Morocco, first played for Lens. He is currently on loan from Tottenham Hotspurs to QPR.

I started playing football when I was five. All the kids in my neighbourhood used to play on the street where I was living in France. The first time I joined in was just for fun – I could never have imagined that it would become my profession. As time went on, however, people started to recognise my talent for the sport. The kids my age would say I had to play with the older kids as they found it difficult to compete against me!
My father never followed football and he wasn't particularly interested in the local hype I was generating. He'd go to work and when he'd return, people would knock on our door and tell him how good I was at football.
I think the first match my father came to was when I was 11. After that, he continued to encourage me and I began to take the sport more seriously. I then enrolled into Lens academy. I'd go to school in the morning and then practice in the afternoon. I left the academy at the age of 13 and following that, I joined the national team of France. I played for the under 16's, and then at 17 I was asked to sign a professional contract. Six months later, I was signed to Tottenham.
My parents have been a monumental force in keeping Islam in my life. My father told me from the very beginning that I could have all the money in the world, but without faith and belief, I'd lead an empty life.
Being a Muslim has had a big impact on my professional life. As Muslims, we don't drink alcohol, we don't smoke, so essentially we've become healthier, more professional footballers because of our lifestyle. Before every game, I perform salah. Without it, I just don't feel confident. I make sure I pray after a match, too – to give thanks and be grateful for the stamina and strength God graced me with.
Having said that, being in the minority as Muslim players in football, it can get difficult. People have all kinds of misconceptions when they hear the word 'Muslim'. Even fellow players can be misled by the media and what they hear. So, I try my best to sit down with everyone who wants answers and explain my religion as best I can.
My usual meal before a match is pasta and fish. I usually eat about three hours before the match so that I'm light on my feet and energised.
Ramadan can be difficult but it doesn't pose a problem as such. My cousin is very supportive and often recites surahs from the Qur'an to keep me focussed and sustain my willpower. I fast during training but I don't during a match. So, the fasts that I miss, I always make up afterwards.
Zidane has always been a big influence for me. We were both born in the same town, we're both of North African origin and of course, he's Muslim, too!
As far as the World Cup is concerned, I was a little bit disappointed that we lost against Afghanistan for the qualifiers. But I'm hoping some African teams will go forward and represent us. I think Spain is a favourite in Europe and of course, Brazil is always in strong form. Currently, I think the best footballer is Messi.
My most memorable game has to be my first match when I came to England. It was my debut and I was 17 years and 6 months old. The match was against West Ham and I was on the bench for the duration. We were losing 3-2 and then I came on – we won 4-3!
Share this


Link to this
Printer Friendly