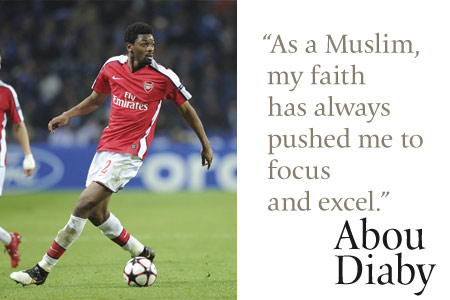 Abou Diaby
Issue 69 June 2010
Abou Diaby, whose national team is France, first played for Auxerre. He currently plays for Arsenal.

I started playing football at the age of 10. I initially started playing basketball and really enjoyed it. I was sure I'd pursue it professionally but my older brother used to play football and he was very good. I used to go and watch him play all the time and then eventually, I started playing with him.
My family was always very supportive and encouraged me, especially my dad. He loves football! He'd come to every match, regardless of where it was taking place. I'm pretty sure he travelled all over France to make sure he didn't miss any matches! My dad has always been my biggest influence.
At the age of 17, I was selected to start playing with the first team. My coach thought great things of me and encouraged me to practice and better my skills.
As a Muslim, my faith has always pushed me to focus and excel; not only in my personal life but in football. It teaches me how to be disciplined and strive to be better.
Glitz, glamour and fame have always been associated with and can be a part of football and of course at some stage, I think you have to learn to deal with the fame. But personally speaking, I don't think it has affected me directly because I don't deem it important. I've been given a good education by my parents, Alhamdulillah. I know where I come from and I know where I'm going.
A typical meal before a match is always pasta and fish. It tastes good and it provides all the nutrients needed!
During Ramadan, I make it a point to fast. The only days in specific where I don't, is the day before and the day of a match. I fast all other days and make sure to catch up on the ones missed.
Some people have the perception that it's difficult to be a Muslim footballer, but I've always felt that if you communicate with people, they respect you for who you are.
My grandparents, my dad and my brother remain my greatest influence. My grandparents were very pious people and they educated us well with regards to our religion and faith.
I have high expectations of France for the World Cup. We had some difficulties qualifying but inshAllah, we'll perform well. I think Spain has a good chance of winning and of course Brazil are always the favourite of the tournament. As far as the best footballer currently, I think Messi is definitely on top form.
The most memorable match I've ever played was my first professional game – we won 3-0. My dad was in the stadium and he was elated! I imagine he felt incredibly proud as he had been watching me since I was 13 and here I was now, winning the first game of my professional career. It made him very happy.
Share this


Link to this
Printer Friendly