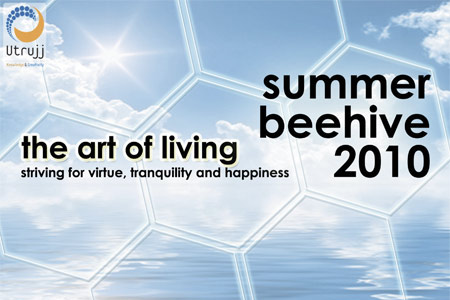 Summer Beehive 2010 - Utrujj Summer Courses
Issue 69 June 2010
The Art of Living - Striving for Virtue Tranquillity and Happiness
The timeless lessons for living the best possible life have been prescribed to us in the Quran and embodied by the Prophet Muhammad, peace be upon him. Learning from them is like discovering buried treasure. Let's face it: everyday life, no matter what our personal circumstances are, is fraught with difficulty. So, what are we going to do about it…? We ask ourselves, how does one live a good life and find tranquillity in the process?
This Beehive aims to equip you with a new perspective on life and the art of living, based on the divine teachings. Our capacity to flourish and be happy is dependent in part upon our own characters, how we dispose ourselves to ourselves, to others, and to events generally. What qualities our characters come to have is down to us to work on and subsequently influence how well we flourish.
What's in a Name?
Date: 10 July 2010
Price: £29 employed / £19 unemployed

The most important part in the journey of life is our understanding of Allah and how we can become closer to Him. This course explores the names of Allah, their meaning and benefits and how these important attributes can improve the essence of our existence, by increasing our bond with our Creator. It is an invitation to come back, to connect with "The One" who created you and all of mankind. Through the course of the day, you will learn how to develop and strengthen this connection correctly, through an understanding of His name, shedding light on how to develop our faith through pondering upon Allah's attributes.
Replenishing the Soul
Date: 12 - 15 July 2010
Price: £49 employed / £39 unemployed

Our life is a journey in which our spiritual health and well-being is intrinsically linked to the condition of our soul. Islam places great emphasis on the soul, and in order to find our way on the road of life every so often we need to replenish it. It is here where we will be provided with a detailed examination how we can do this, endeavouring to return our souls as close to their original state as possible. Through our daily lives we strive for inner tranquillity and outer effectiveness, but this can only be achieved if we learn to find that balance.
In Pursuit of Happiness
Date: 17 July 2010
Price: £29 employed / £19 unemployed

The Fiqh of Relationships with family, friends and community.
"And the believers, the men and the women, are friends protecting each other; they command what is proper and forbid what is improper, keep up prayer and pay the Zakat (welfare due); and they obey God and His Messenger. It is these on whom God will have mercy. Surely, God is All-Mighty, All-Wise. …." [Q 9:71-72]
The example of the Prophet Muhammad (PBUH) is the model which a Muslim tries to follow, and in his example one can seek guidance in all aspects of human life, from the highly personal to the relationships with family, friends and the wider community – as a man, a son, a husband, a father, a preacher, a teacher, a trader, a statesman, a commander, a peace-negotiator, a judge or a head of the state.
Divine Beauty
Date: 19 - 22 July 2010
Price: £49 employed / £39 unemployed

The beauty of the Qur'an extends from the grammatical and linguistic perspectives all the way through to the different aspects of 'beauty'. The literary elements alone would take a lifetime to cover, but this course gives us a taste of the Qur'an's magnificence adding a new dimension of appreciation and awe of the Divine word, not just as something to be observed for its religious doctrine (though its guidance is its primary purpose of revelation), but also as a word that mesmerizes its reader or listener.
For more information, go to the Utrujj website by clicking here
email: info@utrujj.org
tel: 0845 644 0619
registered charity: 1099875
Share this


Link to this
Printer Friendly