Sacred Waters
Issue 70 July 2010
Water has a sacred role across all the traditions which manifest awareness of the Divine. In Islam, that sacredness is most fully expressed through the ritual ablution, which provides practical and metaphysical benefits for the worshipper as they approach the sacred physical and mental space for prayer.
Videography by Robi Chowdhury
Narration by Esham Mirza
To enjoy the feature in its entirety, you can find our feature on Sacred Waters in the latest issue of emel -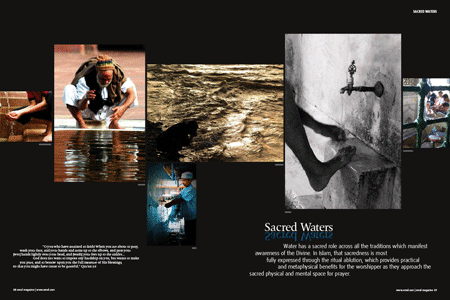 1) Delivered to your door for only £3.50 with FREE Postage and Packaging
You can get your latest issue of emel with FREE Postage & Packaging.
Click here for terms and conditions
Call us on 020 7328 7300 or email info@emel.com.
2) Find your Local Stockist
Your latest issue of emel is also available in stores nationwide including WHSmith and Borders.
3) Subscribe for one year - now only £29.95
You can subscribe for only £29.95 (that's 50% off the standard UK subscription price) and get 12 issues delivered straight to your door, every month..
Call us on 020 7328 7300 or email info@emel.com
Share this


Link to this
Printer Friendly