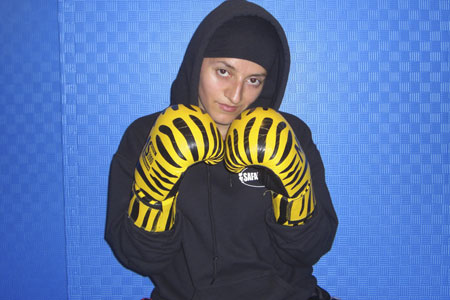 A Week in the Life of Khadija Safari
Issue 71 August 2010
Khadija Safari is a black belt Muay Thai kickboxing instructor. She was taught the sport by World Champion Master Karim Safari – also her husband. Recently, she launched a ladies-only kickboxing class to teach Muslim women about fitness, healthy living and self-defence.
I am awoken first thing in the morning by the call to prayer - the fajr adhan. After praying with my husband, I take a short nap before my alarm goes off at 6am. After a quick shower I pack my rucksack: weights, a skipping rope, a pair of gloves, a plastic gun and a bendy knife. Then, I head over to my first client of the day. I originally studied Taekwondo, almost 11 years ago but I found that kicking and punching thin air wasn't very exciting and didn't help me develop much of a technique. Then I moved to London and discovered Muay Thai kickboxing. As an instructor, I am now able to pass on my knowledge and passion of teaching Muay Thai kickboxing to women and children from all countries and backgrounds.
My first client of the day is a beautiful, tall, golden-haired Syrian who trains twice a week in the morning at her home in Kensington before she goes to work. She throws some almighty blows at the pads I'm holding and practices the techniques I've taught her for disarming an attack by a gunman - taking me down smoothly with ease. After our session she offers me to join her for green tea before freshening up, putting on her hijab and stepping outside to face the world like she couldn't hurt a fly!
As I leave her house I text my husband who has just dropped our daughter to school and we meet for breakfast. Then he goes off to teach his male clients and I head to our gym to start the next women-only class. Lunchtime classes are normally occupied by mothers; the kids are at school, husbands are at work and it's time to let off some steam.
These same mothers then freshen up and shoot off to collect their young children. Meanwhile, I take a couple of minutes out to grab a coffee and some food and then I'm back into the gym for a session with the children. Parents are always surprised and will ask me how it is that their children listen to me and stay focussed when I ask them to, but not when they do. A sport like Muay Thai kickboxing teaches discipline and I always try to mix it with a whole load of fun and games for the children to help burn off some of that excess energy they have. "Jab! Cross! Roll! Low Kick! High kick! Spinning high kick!" I bellow and they respond with vigour to every word.
After the children's class, I prepare myself to teach the evening class at 6.30pm, which is almost always full. As the doors are locked and the blinds come down, young teenagers and young adults and mothers of all ages remove their hijabs and get ready to train. We warm up, do cardio, tone and then we practices techniques. At the end of every class I finish with self defence with the infamous props - bendy knives and plastic guns. Each week the women learn something new. My Muslim sisters have been some of the most dedicated women I have ever seen training; they push harder, they attend every lesson and they still want to do more.
There isn't a great deal of travelling involved as all my private clients live in west and central London and our gym is located in Fulham, and I live in Kensington. Because of the kind of work I do, I am constantly meeting new people from all different countries and backgrounds, including English, Pakistani, Syrian, Algerian, Italian, Malaysian and French. London is such a multi-racial city.
I love every minute of my job; it's so rewarding to be able to offer these women a safe and relaxed environment to train and keep fit, and to remind them that loving God and being true to our religion does not mean that we cannot lead a healthy and active life, just like everyone else.
My love for the sport is matched by my desire to help my sisters and all women realise their potential, learn new skills and keep fit and healthy. The end result is immensely rewarding, and of course it's a plus being able to spend time with like-minded women.
The 2012 Olympics will be the first time that women's kickboxing is being entered as a sport, and it is also the first time that Muslim women will be competing, which is fuelling my desire to run more classes and encourage more women to join.
Share this


Link to this
Printer Friendly