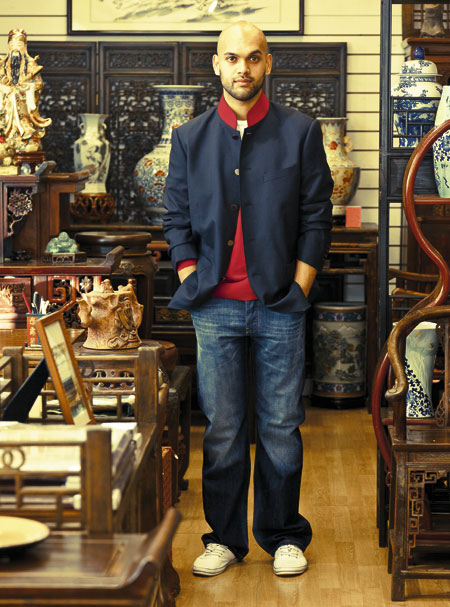 Far Out & Far East - Chinese Inspired Fashion
Issue 100
Milad Ahmed and Aya Bdaiwi both share an interest in The Land of the Ancients, China. Fatema Zehra finds Chinese inspired outfits with a modern edge, creating practical looks for every occasion.
Photographer - Steven Lawson
Aya Bdaiwi studies Law at a university in London. Aya was intrigued by the Ancient City when her brother began visiting China frequently for research. She's fascinated by Chinese culture and would love to visit.
Green silk oriental print jacket, £59 at Oriental Art & Design; Black Maxi skirt, £18 at Topshop; Mustard knit pullover, £32, Black lace insert scarf, £15, Black suede pumps, £28, Ornate bead necklace, £12, Ornate bracelet set, £12 all at Next.
Milad Ahmed is Head of Support Services at Muslim Youth Helpline. Milad's interest in China stems from his previous adventures in Nepal, trekking up Mount Everest. He'd love to walk The Great Wall of China.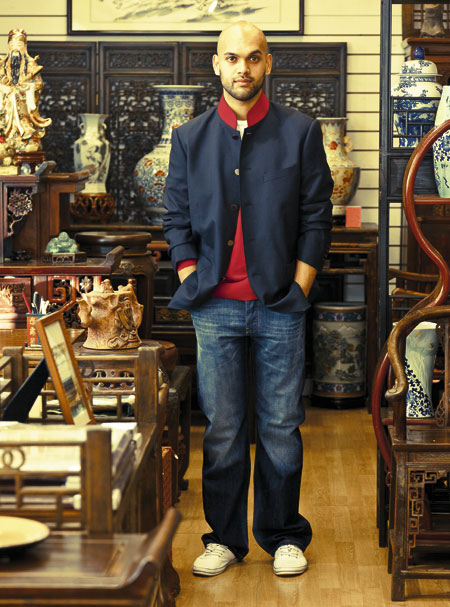 Navy blazer with red Chinese high collar,Men's Designer Jackets £520 at Shanghai Tang; Red knit pullover, £18 at Next; Dark denim, £39 from Blend at Joy; D&G watch, models own; white pumps, stylists own.
STOCKISTS
Oriental Art & Design, 0207 624 9988
LOCATION
Special thanks to Oriental Arts & Design LTD, located on 167 Finchley Road, NW3 6LB for their beautiful background of genuine Chinese antiques. For more information contact 020 7624 9988.
Share this


Link to this
Printer Friendly