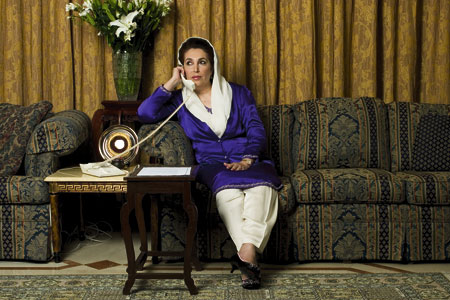 Bhutto - Part of the Women, Power and Politics Season at The Tricycle
Issue 73 October 2010
FILM
Review by Arooj Ismail
Duane Baughman and Johnny O'Hara's documentary "Bhutto" endeavors to provide insight into the multi-faceted and layered controversy that surrounded the political career and life of Benazir Bhutto. Inspired to tell the 'whole story', the documentary's main shortcoming was its somewhat Eurocentric and veneered account of Bhutto's role in Pakistan. For me, as a Pakistani, the documentary fails to encapsulate what Bhutto stood for.
Throughout its history, the name Bhutto has become synonymous with the slogan 'roti, kapra, makaan' (food, clothing and shelter), which has come to mean very different things to the Pakistani people. For some, it inculcates a sense of hope and yet for others, Bhutto's name is embodied by lies, deceit and corruption. From her father's rule and legacy to the present situation, the documentary paints a simplistic and partisan picture with the director's attempts to freeze Benazir in time, resulting in her being presented as a martyr. The director's only success is the use of cinematography to deify Benazir as a woman willing to sacrifice herself by standing up for justice.
The documentary, a self-funded project, resonates biases, which is hardly surprising when taking into account one of the producers was Benazir's lobbyist- Mark Siegel. The documentary revolves around showcasing Benazir's achievements; eradication of polio, creation of women police stations, however, little emphasis was placed upon the fraudulent charges and allegations on corruption, which brought Pakistan into international limelight. Pertaining to the religious vanguard, themes such as Hudood ordinance and the regimes support for Islamic extremists, were systematically substituted to showcase Benazir's transformation and her fight for the truth; democracy.
Throughout the documentary, the notion of democracy remains the only faithful constant and with this comes the conviction that democracy provides agency to the people, however what the film neglects to illustrate is the ease with which people are erased from the equation. The film lacks the narrative of the common Pakistani man and instead centers on voicing the opinion of two groups; western discourse through the opinions of western intellectuals commenting on Benazir's regime and Benazir's friends and family.
Having provided a somewhat critical assessment of the film in the political framework of Pakistan at the time of Bhutto, it is important to acknowledge that the documentary beautifully captures Benazir in her role as a mother, wife, sister and a friend. When looking at these moments in isolation of the wider political context, it provides insight into the personal life of Bhutto that is true and honest.
Ultimately, 'Bhutto' fails to represent the complex situation experienced in Pakistan under Benazir, which results in a pandering to the western publics concepts of democratisation and individual liberties.
Share this


Link to this
Printer Friendly