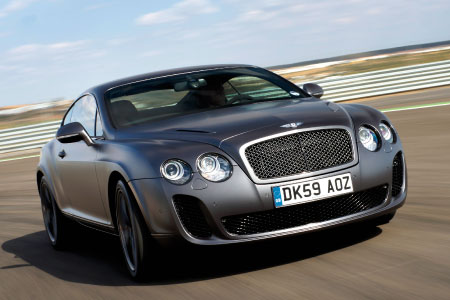 The Bentley Experience
Issue 73 October 2010
Sleek and stylish, the Bentley Continental Supersports Coupe is a wonder to behold. Fazeel Ashraf is left mesmerised by the Bentley experience.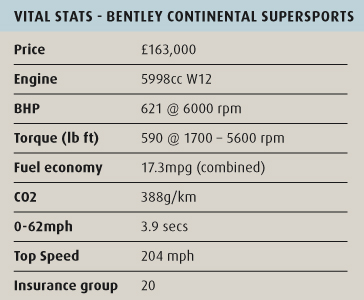 Look hard. This is not just any ordinary Bentley Continental. This is the Bentley Continental Supersports Coupe. Notice the air vents in the front bonnet. Look harder and you might notice the slightly wider track, redesigned front grill and twenty inch alloys trying to hide the humongous carbon ceramic brakes. Peer inside the cabin and the rear seats have been removed as part of its diet regime to save some weight. These subtle touches give this Bentley an altogether new persona – definitely one to be feared. A finish in matte satin grey only emphasises the Bentley's impressive, muscular chassis.
So, what does one do when handed the keys to Bentley's fastest ever car? Do you take the time to admire the quilted Alcantara and soft touch leather interior? Do you analyse how precise the centre mounted Breitling timepiece is? Do you start listening to the Naim Audio System through its fifteen handmade speakers? No, not at all. There is plenty of time for all that stuff later. Starter button pressed, the W12 engine bursts into life and instantly settles into a fast, resonant idle. It's an imposing noise, not yet raucous, but you can feel that aural violence is just a throttle blip away. Now, locate the countryside, find an empty A road, nail throttle and prepare to be left completely speechless. There is no warning sticker, no flashing lights, no disclaimer- just the ever rising tachometer, coupled with a deepening growl. When the full force of the six litre W12 Twin Turbo unleashes itself, you're thrust back into the racing carbon fibre seats with no sign of respite until you're too afraid to take the needle any further. And that's just the first time you put your foot down.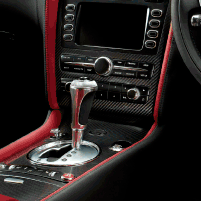 Five days later, I'm still astounded. Bentley claims a top speed of an eye watering 204 mph. Having felt it surging through the gears with real determination, I deem that claim as valid. This twin turbo behemoth produces 621 BHP that will propel you from standstill to 60 in an incredible 3.27 seconds. To put that into perspective, an Aston Martin DBS only manages that in 4 seconds and the Ferrari 612 Scaglietti takes 4.2 seconds to do the same.
The majority of Bentley connoisseurs take pleasure in the opulence and lavishness that a £163,000 vehicle emits. There are no special gadgets or technological wonders in this car but instead, an interior that would not look out of place in Harrods' fine furnishing department; carbon fibre and soft leather swatches have been sculpted side by side and polished aluminium adorns the air vents and switchgear. The Supersports cocoons you in a mist of rarity and extraordinariness, something very few cars can achieve.
To search for a fault in the Bentley is like trying to find a loose stitch in a Chanel handbag – virtually impossible. However, I was surprisingly disappointed by Bentley's console control interface. The Sat Nav system seems ancient compared to even the cheaper alternatives; it's slow and cumbersome and something I would only make use out of in sheer desperation.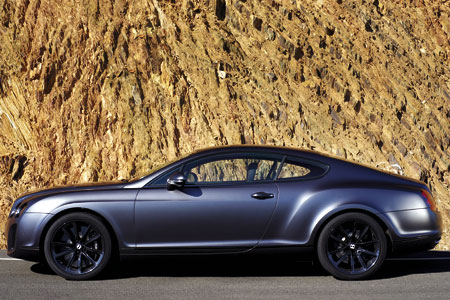 The FlexFuel is a word all new Bentley owners should start learning about. Not only has the Supersports knocked back conventional petrol but it also has the ability to run on E85 bio fuel or even a mix of both without any modifications.
Driving in a car like this on the motorway is always going to be a challenge. This is a true test of one's self control. The tacho needle of the Supersports is pegged at 2500rpm while the cockpit throbs to the beat of its six litre engine; making it virtually impossible to restrict yourself to 70mph.
Whether you are the driver of the Supersports or a passenger, a ride in the Bentley is an experience. Driving to your parents' house becomes an event – not just a short journey. Unfortunately, once you've had the experience, you'll forever long to recreate it.
www.bentleymotors.com
Share this


Link to this
Printer Friendly