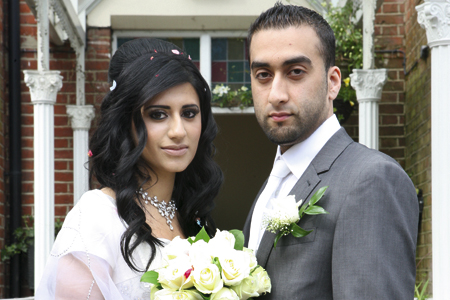 Enduring Love
Issue 74 November 2010
Asim and Sabina Rasib first met when they were only 17. Convinced each had found their other half, both had to endure setbacks before finally getting married this year.
Asim

Sabina and I first met in college 10 years ago. I was instantly blown away by her warm and confident personality, as well as her positive outlook on life. We attended the same college, so I was able to get to know Sabina holistically; the interaction was natural and I got to know her for who she really was. I took a strong liking to her, and it wasn't long before I realised that she was the woman I wanted to spend the rest of my life with. In Sabina, I saw all the qualities I had been looking for in a life partner; she instantly struck me as being someone compassionate, thoughtful and loving.
Although Sabina and I knew we wanted to get married, we hadn't anticipated how others would react. While Sabina's parents were overjoyed by the news, my parents expressed deep-set reservations. Tradition means that parents always want to be included in the process of picking and choosing life partners for their children. I imagine that desire is natural, as you always want the best for your child. So, naturally, I was facing quite an agonising dilemma; I wanted my parents to be happy with my choice of a partner, but at the same time, I knew Sabina was the one for me.
After plenty of soul-searching, Sabina and I decided to follow our hearts and get married. We hoped and prayed that over time, my parents would come to accept our decision. We knew that we were embarking on a long and arduous journey; it caused us both significant pain and heartache. At many points, the idea of marriage seemed impossible, but I was determined to make it happen. I fought for Sabina until the day I finally married her. It fills me with an overwhelming sense of joy when I see how much my family have grown to love and appreciate this kind and sensitive woman.
I'm so glad that we persevered despite the obstacles we faced. Marrying Sabina is the best decision I have ever made, and I am so incredibly lucky to be with someone like her.
I don't think marriage has really changed me; I have always been a very responsible and pragmatic person. What I love about marriage is constantly learning new things about Sabina. Despite occasional clashes, living with someone and sharing your life with them is an amazing experience. We love each other's company. It's the tiny things that make our marriage special; we laugh madly at the smallest of things, and it's only because Sabina and I truly understand each other that we do. Of course, it's not always fun and games. But it's those moments of hysterical laughter that you focus on to get through the difficult patches – reminding yourself of what's really important.
I have been extremely fortunate in marrying Sabina. She is the most giving person I have met and, and always leaves behind a trail of love and affection wherever she goes.
Sabina


Asim and I met when we were 17 and were just about to start at college. I got to know him better and better during this time, and gradually felt drawn to his kind and charming personality. Despite being young, Asim and I both knew we had found the partner we were looking for. Our friendship only flourished because of our intent to get married and little did we know that this intention would be our pillar of strength in the difficulties we faced.
Despite both mine and Asim's desire to get married, it didn't always feel like we were making the right decision. My in-laws, who I have profound love and respect for, weren't entirely pleased that they hadn't been consulted in what would be the biggest decision of their son's life. Despite this, we put our faith in God, and gradually, everything began to fall into place. After some time had lapsed, Asim's parents began to appreciate that we were serious about spending our lives together and once they got to know my family and I, they felt at ease with our decision.
We only had four months to plan and prepare for our wedding, but I can honestly say that I didn't stress once. My parents were there for us every step of the way and supported us unconditionally. As I walked towards Asim on my father's arm, I couldn't thank God enough for blessing me with such a wonderful family, and for bringing Asim into my life.
It is impossible to forget your wedding day, but there are some memories that remain ingrained in your mind and retain a special place in your heart; I will never forget the thundering applause and cheer from our wedding guests, with Asim holding my hand and by my side. Whenever I look back on the journey Asim and I travelled, I am overwhelmed by the love and support of my family and it brings tears to my eyes. Sometimes, I look at Asim and cannot believe that the life we have is really ours. All the hardships we faced before our wedding now seem like a blur, and feel almost insignificant. I count my blessings everyday and pray that they stay with us for a lifetime.
Marriage is everything I expected it to be and so much more. The experience has brought with it many responsibilities which Asim and I have tried to embrace, and God willing, will continue to do so. My husband is my best friend, and I'd like to think that the foundation of our marriage rests on this friendship. We have our ups and downs like every married couple, but the special moments filled of laughter and pure happiness outweigh everything else. Asim is everything I could ask for in a husband; his dedication, love and ability to solve problems is inspiring, and just like his name, he is my guardian and my protector.
Share this


Link to this
Printer Friendly