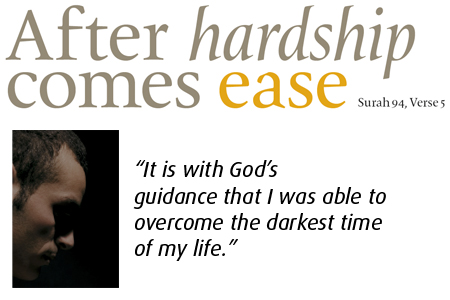 After Hardship Comes Ease - Junaid Masud
Issue 74 November 2010
Junaid Masud was hospitalised for two months after surviving an arson attack that killed his sisters and destroyed his home. After suffering severe burns and being left bedbound for over 50 days, Junaid persevered to achieve his dream of attending medical school.
In the early hours of Sunday morning, I woke up to the sound of screams and roaring flames. I leapt out of my bed and ran to the door, only to see an inferno emerging from the hallway. The few seconds I stood there felt like a lifetime and I could only wonder whether or not this was all a dream. I rushed back to my bedroom, desperately trying to open the window but to no avail.
The next thing I remember is being surrounded by people in my front garden and a line of fire engines blocking our street. In all the chaos, I fell unconscious and later woke up in hospital. I lay there thinking about what had happened, about my house on fire, the thick smoke and the rest of my family. For a long time, I thought it was all an accident but 35 days later, I was told how a 14-year-old boy had poured petrol through the letterbox of my home in a shameful act of revenge in a feud with my sister.
I was hospital bound for 52 days. I spent over a month in an intensive care unit, which specialised in treating burns. It was after six weeks that I was allowed to have my very first meal and was a good moment for me as it indicated that my health was improving. An hour or two later, however, I was told about the death of my sisters, a single moment that transformed my life completely. I couldn't believe what I was hearing and all of a sudden, I was overcome with a strange weakness, as if someone had torn off a part of my body - a feeling that will always live with me.
Once I had been discharged from hospital, I was regularly going back for physiotherapy. This was due to muscular weakness in my entire body, which meant I had to learn to walk again. Although this was tough, I gradually regained my strength and my visits to hospital were becoming less frequent. By this time, school had started again.
As the fire completely destroyed our house, my family and I stayed with some relatives whilst waiting for the council to provide us with a temporary home. Along with my own ill health, as well as the devastating news about my sisters, having to adjust in an unusual place was very hard on my personal and school life. Alongside the weekly physiotherapy, within the first two months of coming out of hospital, I had to prepare for and take two medical school admission tests.
My A Levels were less than a year after the fire and the actual exams were just a week after the court trial. This inevitably meant that I had to juggle revision and attending the trial, which lasted five weeks. Although I would attend the trial whenever possible, I would have to fit in a lot of revision in the evenings to keep up with my school workload.
Almost half a year has passed since the incident, but my health is still in severe condition. Having suffered first-degree burns, which are so aggressive that I may need to face surgery next year, I find it very difficult to do tasks with my hands. For example, I find writing very tough, so during my exams, I was granted extra time and had to use a special pen grip. I also have to constantly wear pressure garments to help the scarring go down and take medication to ease the itching and pain I often have in my hands. As a result of inhaling too much smoke in the fire, my lungs were damaged and I still haven't managed to fully recover.
Although my family and I were forced to endure the loss of my sisters and our home, the only thing that kept me going was the thought of being able to turn my life around. I could not let the person responsible for our troubles win by giving into my problems, no matter how painful or gruelling they were. I may have been severely injured and confined to a bed for weeks on end, lost my sisters and my home, but I felt as if I had something to prove; not just to the culprit but also to myself.
I wasn't ready to accept the setbacks that I was being forced to endure nor let them restrain me and so I just worked harder. It was always my dream to attend medical school and make my family proud of this achievement. Considering everything my brother and mother had been through, I was motivated to make this dream my reality. I put my faith in God and with His grace and the strength He gave me, I achieved one A* and two As; a set of grades that promised me a place at Imperial College. I can only thank God for the courage and strength He gave me to work and perform to the best of my ability. It is with God's guidance that I was able to overcome the darkest time of my life.
Share this


Link to this
Printer Friendly