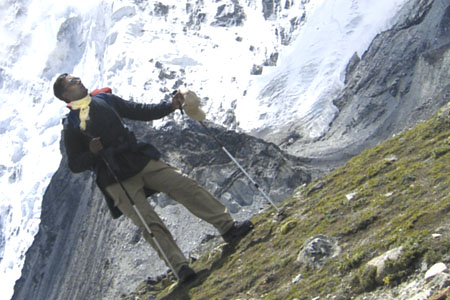 A Week in the Life of... Raseed Goolam-Hossen
Issue 7 Sept / Oct 2004
Rasseed Goolam-Hossen tells Subi Shah of his unusual week climbing Everest to raise money for the Islamic Relief Orphan's Fund
My trip up the mountain was no average week in my life. Ever since I was a small boy growing up in Mauritius I have dreamed of climbing Everest. The pictures of barren, rocky passes and snow-capped peaks which I would eagerly seek out in text books and geographical magazines were like nothing I had seen before on my lush, green, tropical island.
Now living in Abbots Langley, Hertfordshire and aged 57, I was finally to fulfil my ambition. As a nurse at the National Society for Epilepsy, I normally spend most of my working week indoors on a hospital ward. This was something else. Aside from the personal challenge this journey would provide, my main aim was to raise money for the Islamic Relief Orphans Fund.
My trip to Everest was a natural progression of the spiritual journey I have been on over recent years. I completed Hajj two years ago and on the wild, ragged terrain of the highest mountain in the world, I was reminded of the Prophet Muhammad on Mount Nur. My journey allowed me the time and space to contemplate the deeper meaning of my life as a Muslim.
I left the UK on July 12th 2004. Each hour of my 20 day round-trip was totally occupied, from waking each day at 5am to going to sleep again around 10.30pm. The whole day was about getting on - pushing oneself onwards and upwards. There were often times when a group member would feel like giving up but we worked as a team, scrambling our way up the steep Himalayan tracks to Base Camp.
With my climbing group of 25 men and women I covered six to seven miles each day at altitudes ranging between 7,000 to 18,195 feet. The altitude took its toll – out of our group, only 12 of us made it to the highest point at Kalapatther. The journey was rocky but wet, with dry, arid land surrounding large, moon-like craters filled with icy water. There was sparse vegetation along the way, which became rarer still the higher we climbed. We also saw wild yaks, musk deer, mountain goats and birds of prey all living in this immense area of outstanding beauty and with each step I took, I praised Allah in awe and wonder at His beautiful creation. At home in Abbots Langley, I am used to praying fi ve times each day. On Everest we often had no water to cleanse for several days at a time and my religiously-mixed group had no time in their tight schedule to stop for prayer. I admit I found this change in my routine very diffi cult to deal with at fi rst, however, I adapted my prayers to suit my surroundings, just as my brothers and sisters in war-torn or drought-ridden parts of the world do each day. I was reminded of surah Baqarah, teaching that a Muslim does not have to be in a mosque to pray and took great solace in this lesson. I did my prayers when I was able to stop, I read my Qur'an each night and said a thousand silent prayers on my journey.
My experience as a nurse proved to be very useful. I helped one fellow climber with a particularly bad tooth abscess and gave breathing assistance to another. During my career as a nurse, I have been on several training courses as a counsellor – being able to speak quietly and listen respectfully to my fellow travellers was a blessing. I realised the need in each human being to be heard and understood. During the trip I thought a lot about my family. I missed Mary, my wife of nearly 37 years and my two children, Yusuf 31 and Shareefa 35. Most of all, my thoughts were with my grandson Ibrahim, who had his seventh birthday party the week before I left. I thought about how he was spending his school holidays at home in London wit his mother and father and wondered if Yusuf was still taking him on their regular fatherand- son trips to the local skateboarding park. I realised how privileged my children are compared to the orphans for whom I was raising this money and thanked God for everything He has provided my family.
I found writing a diary a huge help in focusing my thoughts. My diary became a good place to express my innermost feelings on the remarkable journey I was on. 'The rocky trek is wet and muddy. Sometimes we seemed to be ascending, other times, descending for a distance, but all the time we are gradually inching our way towards our goal of Base Camp. Earlier, we met sherpas carrying their heavy loads on their backs using straps to balance them on their foreheads. Men and women of all ages. I could feel their pain. No matter how many times they have to make these strenuous trips, it must take its toll on their health and wellbeing.'
This has been an amazing experience for me on every conceivable level. I have been told I am the fi rst Mauritian to make thi journey and know that if I can achieve this, even as a grandfather, then with Allah's grace I can cope with any challenges the future may throw my way. In fact, I am already planning my next excursion – a trip up Mount Kilimanjaro next year.
When I returned to London, my daughter-in-law asked me how I was feeling and I told her, "I am on top of the world!"
Share this


Link to this
Printer Friendly