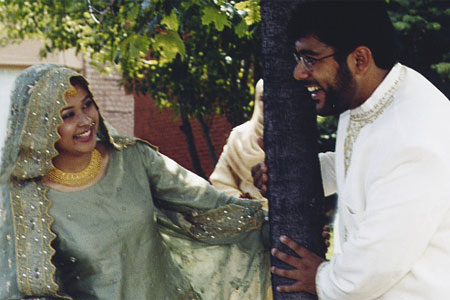 Abdul Rehman & Fareena
Issue 7 Sept / Oct 2004
Abdul-Rehman, a Pakistani teacher from Canada and Fareena Alam, a Bangladeshi journalist from Singapore tell how their traditionally hostile ethnic backgrounds did not stop them from finding tranquillity with each other.
Abdul-Rehman: There are moments in our life when we meet people and we feel an immediate connection with them – inexplicable, but undeniably present. I often prayed, in the years before my marriage, that my spouse would be one of the soul-friends from that Day of covenant in the time before time. By Allah's mercy, my prayer was accepted.
But, I'm getting ahead of myself. This journey starts many years before I even knew Fareena existed. It started in a darkened office off Oxford Street in 1995, where I met the true protagonist of this story – my friend Fuad Nahdi.
In 2001, I found out that a new News Editor had been hired at Q-News, the magazine Fuad published. I wondered who this new person was. Mysteriously, Fuad said little about her, although every time I asked him on the phone, I imagined he had a mischievous grin on his face.
It was in late June 2001 that I met Fareena – in San Francisco. We were both attending a conference organised by the Zaytuna Institute. Fareena was there and as I walked over to the table, I thought to myself, "Who is this new Malaysian girl working for Q?"
I met Fareena again that summer in London. She was intelligent, edgy and inquisitive. She was willing to push the envelope of what a Muslim journalist ought to cover. Fareena had an honesty and zest for life and faith that was at once infectious and beautiful. She was elegant, modern, independent.
I wasn't even thinking about getting mar- ried. My friends in Toronto had dubbed me "President of the Bachelors for Life Club". There were many things about myself that I needed to fix first: marriage seemed like a distraction.
In the months and weeks after the tragedy of September 11th, I was in touch with Fareena regularly. There weren't many personal con- versations, but why was it that months after we met, I couldn't shake the idea that she might be the "one"?
My feelings were becoming more profound. Perhaps Fareena noticed, but maybe she didn't. I had to be sure before this went any further. I made istikharah, the prayer of seeking guidance, over seven nights as I had been advised to do. Night after night, the istikharah gave me a powerful spiritual clarity and peace – I had never felt so at peace with a decision. I hoped and prayed that Fareena would feel the same.
I told Fuad and his wife Humera about the istikharah and how I felt. "Well, it's about time!" he exclaimed. "I'm getting grey hairs waiting for you to come to your senses."
After weeks of e-mails I decided it was finally time to ask "the question". It happened one afternoon... online! Men find it difficult to utter those four little words - whatever I asked, it wasn't good enough.
So I called the next morning and promised her that I was kneeling on one knee and asked her properly, "will you marry me?" By Allah's mercy, she said yes.
Our approach has been rather unorthodox. I had not really considered the cultural divide - my parents hailed from the Punjab and grew up in Pakistan; her parents were Bangladeshis now settled in Singapore. Having grown up in Canada, ours was a truly multicultural Islam. Our close friends included Pakistanis, Arabs, Bengalis, West Indians, Africans and Europeans.
When I told my parents they were so over- joyed they didn't even ask what my prospective bride's name was, let alone her ethnic back- ground or about her "biodata". My parents certainly buck the typical traditional trends – may God bless them.
What followed were months of delicate negotiation. Fuad and Humera took a proper proposal over. My parents declared that they were coming over to the UK and were hoping that after a few days of meeting and spending time together that, at the very least, an engagement should take place.
After several discussions with Fareena's aunt, who had offered to help smooth the way forward, Fareena's mother had agreed to a nikah. I was overwhelmed and over- joyed, but how to organise a wedding in less than a week?
All I can say is that is was miraculous. By the time my parents met Fareena's parents – for the first time – the hall had already been booked, invitations sent out, wedding clothes ordered and caterers arranged. Fuad returned from Jerusalem having heard the good news at the Dome of the Rock (Humera had phoned him). He had just finished praying for us when the fateful call came. He later told us that he had prayed for our marriage even before we met each other, so sure he was of our eventual coming together that the prayer had passed his lips during the hajj just months before we actually met.
Allah finds a way to make the path of two become one, as long as you have faith and struggle to reach Divine presence. Fareena and I are still on our own paths, everyone must have their own – no two people are the same – yet we walk those paths together, guarding over each other's souls in the company of friends who seek Allah's mercy and the companionship of the Prophet in the life to come. Ameen.
Fareena: I felt Abdul-Rehman was the one from the time I first met him in June 2001. It wasn't love at first sight - in fact, we exchanged little more than a few sentences, however I felt an incredible sense of tranquility in his presence.
For months afterwards, my friends teased and dropped hints. Each time I laughed it off. I didn't want to openly warm up to an idea that might not come to fruition. In December that year however, my feelings for the idea of our marriage grew undeniably strong, but the flutters inside my heart were missing.
In March 2002 after several weeks of exchanging impersonal but long and meandering e-mails, Abdul-Rehman asked if I would marry him. I said yes, and then began to wonder how my parents would take it.
Abdul-Rehman was from faraway Canada and he was of Pakistani origin. My extended family members had suffered a great deal during the 1971 civil war and I didn't know if they were ready to face the prospect of their daughter marrying a non-Bengali. Iw was nervous for weeks before I told my mother. I remember I felt so helpless and afraid that I made my ablution, said my sup- plications and then told her. She responded with delight, saying she did not care if I didn't marry a Bengali. I was shocked... I must have prayed all night that night in thankfulness to Allah for making it so easy for me.
The next morning however my mother was overcome with concern. It was a concern that would last for months until just six days before our nikah. My mother never said I could not marry Abdul-Rehman. In fact, she refused to say anything, which baffled me. I slowly realised she was struggling with finding solace with many things - the thought of marrying her first daughter off, the thought of her daughter marrying a complete stranger. I realised she needed time.
In June Abdul-Rehman flew to London to see my parents. He met my mother and gave some presents from his parents to her. Months later I learnt my mother had thought at that time that Abdul-Rehman was from a noble family when he went to her with his present for me, rather than giving it straight to me.
It was a very difficult period for me and for her, I'm sure. I asked day and night to make it easier for me if this was good for me. I remember I would say a thousand Ya Lateefs (O Comforter) twice a day and a prayer with a thousand declarations of faith twice a day. It was immensely comforting. I was acutely aware that if there was anyone who would make this time easy and good for my family and me, it would be God.
How we eventually got married was nothing short of miraculous. The day my in-laws arrived in England – it was a Friday, and four days before they said they would visit us for the 'proposal' and the ring, etc. my mother found peace in the matter and said, completely out of the blue: get married – forget the engagement.
Within a week my mother, father, sister and my extended family planned the most amazing wedding a girl could ever have. By Allah's mercy, everything, including the venue, the caterers and the photographer fell into place. The engagement dress my in-laws had brought for me served as my wedding dress – and it was absolutely perfect. Abdul-Rehman, having been unable to find a traditional wed- ding suit in his size, found an immensely helpful tailor in Southall who took his order on the Thursday, faxed it to India and had the suit DHL-ed to us by Saturday.
On Sunday, four hundred people turned up for our wedding after having received a two-line e-mail invitation from us, and we were married.
Most women spend months if not years planning their wedding day. I did not have this opportunity but I have no regrets whatsoever, because in what Allah did not give me, he infinitely rewarded me in the man I married. Abdul-Rehman is all that my heart said he would be the day I first met him, and so much more. And the missing flutters – that changed long before I even knew it.
Share this


Link to this
Printer Friendly