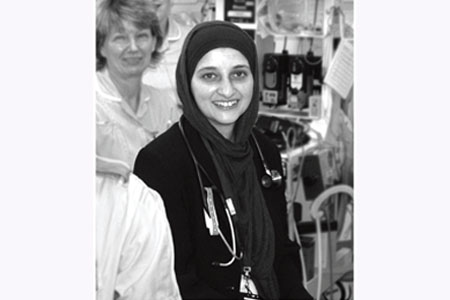 The Muslim Medicine Women
Issue 7 Sept / Oct 2004
It's dynamic and I enjoy thinking on my feet. With Emergency Medicine you are constantly multi-tasking, dealing with patient resuscitation one minute, covering staffing issues the next.
More and more women are entering the medical field sparking recent inflammatory statements by the eminent President of the Royal College of Physicians, Carol Black. The so-called feminisation of medicine, in her opinion, undermines the status of the medical profession in society. Zarina Saley talks to female Muslim doctors and finds that on the contrary these strong and faithful practitioners have subverted the term feminisation through their vital contribution to medicine.
Yasmeen Hasnain is a consultant in a field of medicine made famous by the dramas Casualty and ER. But the 40 year old mother of two is a far cry from George Clooney in ER or the beleaguered Charlie in Casualty. She has been a consultant in Accident and Emergency Medicine (EM) for over a year.
Yasmeen works at the famed Stoke Mandeville hospital in Aylesbury and sees a lot of 'blunt trauma' – medical speak for road traffic accidents. Her previous London experience was, "less blunt trauma, more gun shot wounds and stabbings," she states matter of factly. Emergency Medicine as a specialisation does seem a startling choice, so why choose it? "I like the variety. It's dynamic and I enjoy thinking on my feet. With EM you are constantly multi-tasking, dealing with patient resuscitation one minute, covering staffing issues the next." However, it is not for the faint of heart, "I sometimes have to go on road side traumas, especially at this hospital because the winding country roads mean there are a frequent accidents." Her multi tasking skills really come into their own on these occasions as she has to liaise with the police, the fire service, as well as deal wit the patient, "We could be on the side of a motorway or a country road. The patient is often stuck in the car and we have to stabilise and resuscitate him or her so that the fire service can cut them out. This might mean putting a drip up through a window or sedating them sufficiently for them to be cut out which might include amputations. Such experiences are obviously difficult."
Surprisingly she does not rate these incidents as the most difficult she has to deal with. "Paediatric death is hard for everyone in EM, no one is unaffected. Suicide is hard too. The pointlessness of that life lost. Here I see about 5-10 a year, in London I would see many, many more but you can't focus on it too much. Emergency Medicine is too fast and if you thought too laterally or were too philosophical then you couldn't do your job professionally." And 'doing her job professionally' is very important to Yasmeen, "It's all about training. Doing your job and doing it well. It's about professionalism.
"This attitude is certainly one of the reasons that she is one of the lead EM consultants for emergency planning in any major incident including nuclear, biological or chemical attacks, for Stoke Mandeville Hospital (spinal injury and burns centre). This is something that would come into play in a national emergency situation in the face of a large scale terrorist attack for instance.
With a family pedigree of doctors (her father was an Ear Nose & Throat surgeon, her mother an aesthetist) it would seem her destiny to tread the medical route. Her father however didn't want her to become a doctor, encouraging her to become an artist. His decision to take her to work one day however, sparked the young Yasmeen's imagination, "I saw him perform an emergency tracheotomy on someone and that inspired me."After her father's premature death Yasmeen became resolute in her determination to pursue a medical career. Her mother's advice was to finish her studies before she got married; this was unusual advice given that Yasmeen's Pakistani background usually promotes women marrying in their early twenties. "I am glad I completed my FRCS exams before marriage and children. It meant that I had gone so far that I just had to continue." Passing her FRCS exams made her a "Fellow of the Royal College of Surgeons" and gave her the surgical background that would prove so helpful in her career in the field of emergency medicine.Prior to that she had worked in the US in Emergency Medicine – a career move she recommends to motivated young doctors, "After completing my Senior House Officer jobs I applied for a job in the US. This required passing the FMGEMS/ FLEX exams and applying for an EM residency program at the famed Cook County hospital in Chicago. It was a fantastic experience and I highly recommend working abroad in the US, Australia or South Africa. All of these places have excellent medical training.
"Having developed a taste for the ER in the US, back in the UK she embarked on a Specialist Registrar Programme in Emergency Medicine in Oxford. This course usually takes five years but Yasmeen took time out to have her two sons, Hamza 6, and Ibrahim 4. Yasmeen persevered, fully supported by her husband Zahid, director of a telecommunications company and completed the course by going part-time, working what most of us would consider full-time hours - part-time is 40 hours a week as opposed to full-time which is 56 or 64 hours a week in some hospitals. "You just have to keep going. It is hard, but if you stay focused you can succeed.
It was difficult taking time out be- cause when you come back there is a steep learning curve, catching up on new medical innovations. There is constant and continuous professional development."
The hard work and determination paid off though because in 2003 she became a Fellow of the Faculty of Accident and Emergency Medicine, taking the exit exam to make her a consult- ant. "Being a consultant is incredibly interesting. Much of my time is taken up with teaching junior doctors. They change every 6 months. The first 3 months is hard work and they have to be constantly supervised, but after that they become very proficient." She is also expected to supervise resuscitation of major traumas and deal with paediatric resuscitation. This 'clinical work' takes up three and a half days a week. Her supportive EM department allow her to work the other one and a half days from home preparing teach- ing material, completing clinical audits and clinical governance - making sure that the provision of care is in line with systems for good patient care.
In amongst all this she also finds time to fund raise for the school PTA and teaches half a morning a week at her son's school, "I help out, teaching the young children computer skills. It is nice to be exposed to healthy children. It's also interesting to see how the school works and it allows me to get to know my son's teachers and see him in his school environment." Yasmeen is passionate about her children, constantly worrying about their present and future needs, however she feels working makes her a better parent, "I need to have my medical side ticking away. I feel I am a better Mum because of the challenge and the stimulation at work."
What about the fact that she wears the hijab? "I started wearing it three years ago. I suppose it came as a surprise to some colleagues. They ask me if my husband forces me to wear it! 'On the contrary!' I tell them. The patients don't mind at all, I just think that medical professionals have quite a secular mind-set and it seems strange to them for someone to be religious." Despite the hard work and the juggling required to succeed, Yasmeen is adamant that the medical profession is a good one – especially for hijab-wearing Muslim women. "The hijab doesn't matter anymore, indeed it is fairly common place. What is important is attitude. Be cheerful and confident. And go into challenging areas of medicine. Don't be shy and don't be afraid!" Yasmeen has certainly taken her own advice.
Maha Al-Katib is a registrar in Obstetrics and Gynaecology (O&G), a high pressured field of medicine that is hard especially for someone with family. Maha herself has recently given birth to her second child and feels that, "O&G is slowly becoming more accommodating to those with families, although it is still hard juggling everything."
Maha, 31, of Iraqi origin, went straight into O&G after completing her degree at Leeds, where she grew up. Account- ability as a Muslim played a huge part in her decision to go into the particular field and fortunately, Maha never felt hindered in her choice. "The medical profession is open to differences – be they religious or of ethnicity." As a hijabi, she has only faced occasional problems. When going going into surgery she has sometimes been asked by nurses to take her scarf off and wear two surgical caps instead of one. Maha finds by simply explaining that it is a part of her clothing and that it is clean, people tend to understand.
Now she has a young family, Maha is keen to balance her career with her role as a mother and wife. "I asked the opinion of scholars and they emphasised the need for female Muslims in O&G. They encouraged me to realise that although there would be difficulties, the Muslim community or extend- ed family would take on the responsibility to help me manage my busy life and divided obligations."
Sadaf Farooqi is a clinical scientist at the well-known Cambridge hospital, Addenbrookes. Born into a Pakistani medical family, she always aspired to follow in the footsteps of the rest of her family. "Whilst at school I did voluntary work in the local hospitals alongside nurses as well as doctors; it's a good idea for anyone with a keen interest or passion for medicine to get involved early on."
Born and bred in Birmingham, Sadaf trained in her home city. "I went to Birmingham Medical School and graduated with honours. Throughout medical school I gained top marks every year, and I eventually specialised as a physician." Sadaf did her House Office job in Dudley Road, a multiracial community in Birmingham, where the majority of people are either Asian or Afro-Carib- bean. "I saw a broad range of medical problems, ones which I couldn't learn about in the medical books. Some diseases seemed more apparent in the ethnic community, specifically heart disease and high blood pressure."
After her House Office job Sadaf went to Oxford for two years to complete the prestigious MRCP, a higher level diploma, where she focused her research on diabetes in the Asian community. "In 1997, I met Professor O'Rahilly, a young Irish professor who specialises in diabetes and I became interested in genes and genetics in connection with obesity. With his help and support I began to make the discovery of how obesity was connected to genetics."
Her PhD was a great success, focussing on the discoveries she had made. She won the Clinician Scientist Fellowship - an award that only three people in the country have received. Sadaf 's research enables her to work in the lab, screening genes, as well as having direct contact with patients in a clinical research environment. Adenbrookes is the world's leading centre for this work.
Sadaf encourages young people who want to make it in the medical profession. "I am fully aware that not everyone has the same chances in life. At present, a 16 year old Asian schoolgirl with hopes of becoming a doctor comes to the hospital to do work experience." She is happy for anyone who is interested in medicine to contact her at ifarooqi@hgmp.mrc.ac.uk for further advice.
Amina Abba is a 24 year old medical student studying at UCL. "I was al- ways interested in science and I enjoy working with people. I wanted to find a way of combining both." Herself of Nigerian origin, Amina intends to eventually work in Nigeria so she may offer her skills to the people there, especially to the many Muslim women who are denied access to medical help in the absence of women doctors. "There are cases in certain remote areas where husbands don't want their wives to visit male doctors in the hospitals. As a Muslim woman doctor I can provide medical care that they will accept." Amina is interested in one to one patient care, "I couldn't see myself as a surgeon; I would want to spend time with my patients and get to know them," consequently she is drawn to becoming a GP where you have direct contact with the patient.
Amina feels she has received considerable support within the medical field. She recalls going into theatre and was attached to two female Muslim consultants at the Whittington hospital in Highgate, London, both of whom wore hijab. "They provided me with a long sleeved gown, and an extra surgical cap to cover the back of my hijab."
According to Amina, "medical school places a strong emphasis on recognising other cultures. We watch videos of mock consultations and then will assess communication skills. Everyone in the group will learn one another's viewpoints from one another's cultural perspectives." Amina sees medical school as being non-judgemental and in this essence being in harmony with Islam.
Share this


Link to this
Printer Friendly