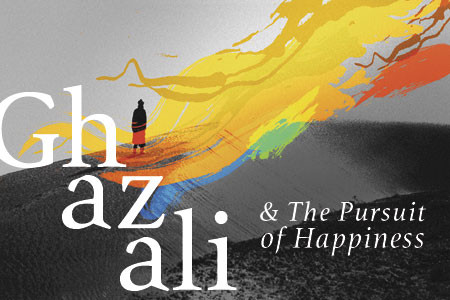 Imam Ghazali & the Pursuit of Happiness
Issue 76 January 2011
The Prime Minister has launched a survey to measure British people's well-being. Nobel prize winner Joseph Stiglitz has recommended nations measure emotional prosperity, rather than economic prosperity as a true indicator of people's happiness. In these austere times emel marks the anniversary of a man known as the alchemist of happiness.
By Tam Hussain
Nine hundred years after the death of Abu Hamid Muhammad Al-Ghazali, we find ourselves in a conundrum. We live in a world fraught with bloodshed, economic strife, and social disintegration. We live in an abundance of material wealth side by side with abject poverty – often in the same country, the same city; we are technologically advanced but emotionally infantile – often within the same person; our desire for more scorches the Earth, and in the process we hasten our own termination. Our soul flutters uncomfortably as it searches for satisfaction – often in transient forms that only succeed in heaping greater misery. We confuse ugliness with beauty; have difficulty discerning between right and wrong; eschew justice in the pursuit of pragmatism. In such circumstance, can anyone provide an antidote to our modern world?
Understandably, it is difficult to see how a medieval scholar born in a small town in Tus, Eastern Iran in 1058 can come to our assistance. Ghazali's world was very different from ours where Abbasid caliphs contended with Fatimid caliphs and real power lay with the sultans. True, the period witnessed the giant intellects of Ibn Sina, Ibn Rushd, Omar Khayyam, and many others. For sure, their discourse was different from ours: they argued about Aristotle and practiced medicine based on the four humours, whilst we argue about the philosophy of Richard Branson and clone sheep. Whilst one can easily see Ghazali's contribution to medieval Islamic civilization, it is more difficult to do so with modernity. Ghazali's father determined that his son should dedicate himself to the service of Islam, and though orphaned at an early age young Ghazali's keen intellect ensured that he studied in the best institutions of Islamic jurisprudence. By 1077, he had studied under giants such as the theologian and jurist Al-Juwayni. By 1091, he was lecturing at the prestigious Nizamiyya in Baghdad to hundreds of students, and by the end of his career he had authored over seventy works. But why should Ghazali offer something to the modern world? Because in his writings, especially his autobiography The Deliverance from Error we get an insight into the nature of man.
"What Ghazali means to me" < A selection of people who speak about what Ghazali means to them.
To enjoy the full feature in its entirety, pick up a copy of our latest issue. You can subscribe to emel here or give us a call on +44(0) 207 328 7300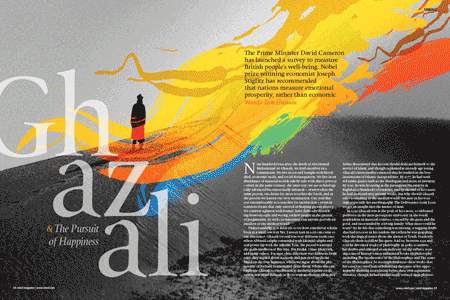 Share this


Link to this
Printer Friendly