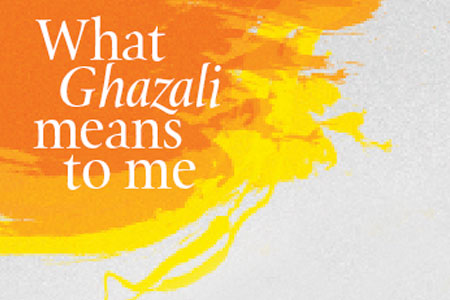 What Ghazali means to me
Issue 76 January 2011
Nourishment for barren hearts
Abdal Hakim Murad
Lecturer in Islamic Studies at Cambridge University

We live in an age of material obesity and spiritual starvation. Every possible treat for the body and the ego is within our easy reach; and yet for an increasing number of people, the world seems a forlorn and aimless place. Maximal indulgence seems to go hand in hand with depression, anxiety, and disrupted relationships with spouses, parents, and children.
Imam al-Ghazali spoke of religion as nayl al-sa'ada, the achievement of happiness. The goal is hardly out of date; in fact, it represents the timeless and universal human quest - and an entirely legitimate one. Yet our modern lifestyle tends to emphasise a fulfilment of the surface. We go for a facial, or decompress at the gym, or the spa, or the eco-resort; and then we return to our hectic workplaces in a culture which tends to assume that abundant goods and services supply the peace of mind which, in earlier times, was provided by trust in God....
Ghazali for the children
Aisha Gray Henry
Publisher, Fons Vitae

In 1967, I came across Imam al-Ghazali's spiritual autobiography, Munquidh min al-Delal, in the New York Public Library on 5th Avenue. My thoughts as I turned the last page were, "So! Islam is true." Were it not for "the faith and practice" of this spiritual giant among men, I would not have driven with my husband across North Africa in search of men of learning and knowledge, nor studied 10 years at Al Azhar nor helped found The Islamic Texts Society (ITS) in 1980 in Cambridge, UK. From our small premises on Green Street came the first of the Ghazali volumes – T.J. Winter's translation of Death and What Comes After. And now, thirty years later, as I fast approach 70 years of age, I have been graced to discover why I was in fact born. Each of us is given a gift to deliver, and it would appear that mine is the Ihya for children...
Gratitude for the gifts
Zarina Nalla
Co-founder of the International Institute of Advanced Islamic Studies in Malaysia

I was introduced to the books and writings of Imam Abu Hamid al-Ghazali, may Allah be pleased with him, at different phases of my life. During my teenage years, when I questioned almost everything, I found a translated copy of the Ihya Ulumuddin (Revival of the Religious Sciences) at our local mosque. I clearly remember the impact the book had on me. Its content was presented in a very comprehensible manner; each subject was supported by logic, and was firmly rooted in the teachings of the Qur'an, traditions of the Prophet Muhammad, his Companions.
I marveled at the simple way the book was organised. Volume 1 began with a Chapter on Knowledge, followed by Belief, Cleanliness and the Acts of Worship. Imam Ghazali rejects blind faith and establishes early on that Knowledge is the basis of our Belief and all things we do...
Becoming what we know
Jeremy Henzell-Thomas
Visiting Fellow, Prince Alwaleed Bin Talal Centre of Islamic Studies, University of Cambridge

When I reflect on what I have personally learned from the towering figure of Ghazali, I invariably turn to the wisdom distilled in his great dictum that "tasting (dhawq) is the way to certitude (yaqin)". Those who taste, know. Tasting, direct experience of truth, goes beyond what he called the "conventional learning of the age," formal religious knowledge without the 'flavour' imparted through inner perception. The connection between wisdom and direct experience is of course enshrined in the English word 'sapience', wisdom, from Latin sapere, 'to taste' and by extension, 'to discriminate', 'to know'.
This realisation was the fruit of Ghazali's own restless and intense spiritual journey and the conscious development and self-questioning it entailed at every stage. The Qur'an guides us to the starting point of that journey: in surah Al Mu'minun, the Prophet Noah urges his people to worship God alone, and to become conscious of Him; but the 'great ones' among his people label him as a madman, for they have never heard anything like Noah's message from their "forebears of old." (23:23-25) Muhammad Asad notes that this "implies a condemnation of all blind taqlid, unthinking acceptance of religious doctrines or assertions not unequivocally supported by divine revelation, the explicit teachings of a prophet, or the evidence of unprejudiced reason."...
Share this


Link to this
Printer Friendly