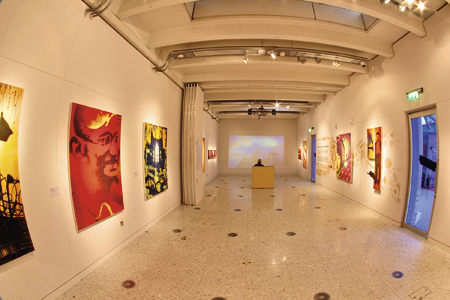 V&A Street Art Exhibition feat. Street Art by Mohammed Ali
Issue 76 January 2011
Review by Afshaan Hena
The evening of October 7th 2010 saw the launch of the V&A Street Art exhibition, which includes impressive works by the likes of Banksy, D*Face, Ben Eine and Shepard Fairey.
What drew me to attend was Muslim award winning street artist Mohammed Ali. The gallery commissioned him to produce his own exhibition. The street art snob may say a gallery commissioning a street artist to produce work renders it no longer, well, street art.
I would disagree, however. I could and may well go plodding around the streets in search of interesting pieces of graffiti and look out for well known tags. But the reality is that most of the population needs to be introduced to street art. The Herbert on its launch night with roughly 1,500 people in attendance managed to do this. There was an excited buzz in the air from street artists and the novice alike.
Mohammed's exhibition titled 'Breaking down the Wall', explored themes of freedom, equality and justice. He told me that as a Muslim, he had to wait for the right time to produce such an exhibition. He is all too aware that people may just associate his pieces on Gaza as just another Muslim extremist. Yet his themes can also be seen in the works of Banksy, although ironically in a less controversial way. The time certainly is right for Ali; he has a well deserved reputation and right now we need Muslims in the arts to explore concepts of justice, equality, religion and freedom. He delivers work that is not only skilful and brilliant but much needed.
The exhibition has given me the inspiration to go out and look for street art. It has also confirmed my love of Banksy and Mohammed Ali's work. Sadly, the launch had a lack of Muslim presence. Why is this? Ali's exhibition has themes relevant for Muslims today and we should be nurturing our young artists.
Herbert Art Gallery and Museum, Jordan Well, Coventry, CV1 5QP
Share this


Link to this
Printer Friendly