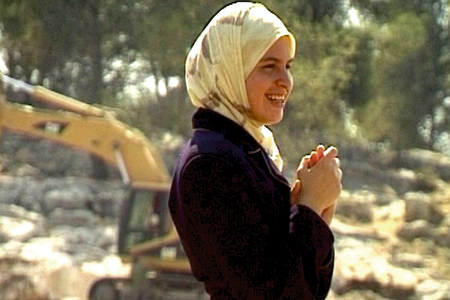 Budrus
Issue 76 January 2011
Review by Mohammed Elshimi
This film documentary tells the powerful story of a village and its non-violent resistance against the Israeli army, seeking to confiscate its land and build a 'security wall'.
Defiant and unrelenting, the small village of Budrus, led by community organiser Ayad Morrar, peacefully obstruct Israeli bulldozers from hacking their olive trees and encroaching into their land. This battle of wills which lasts for months quickly moves beyond its borders, galvanising support from Israeli and international activists as well as uniting local Hamas and Fatah officials. They are rewarded in the end with a victory which sees their trees safeguarded and the wall moved back a few kilometres.
With conventional documentary- style footage and interviews, director Julia Bacha succeeds in giving the audience an authentic taste of the "moment" but leaves little room for character development, as well as impinging the film with a subtle "this is how it should be done" message, in her efforts to extol the virtues of non-violence. This can be easily forgiven, however since Budrus wonderfully breaks down assumptions about the Palestinian-Israeli conflict; we are shown Israeli Jews joining the Palestinians in solidarity against the Israeli army, as well as the unremorseful Israeli woman soldier aggressively enforcing the will of the army.
Another assumption-busting feature in this tale of resistance is the heroic contribution by the women of Budrus. Confronted by a siege of women at the frontline, the Israeli army became flustered and impotent. The role of women in resistance had the unusual effect of turning the conventional scripts of this conflict on its head; in fact, it became a strategic liability to not have women participating in resisting the occupation, something movements working for Palestinian freedom must take note of.
"Budrus" compellingly captures the story of hope and the power of people to organise and achieve success against the powerful. A must see spectacle for moviegoers.
Share this


Link to this
Printer Friendly