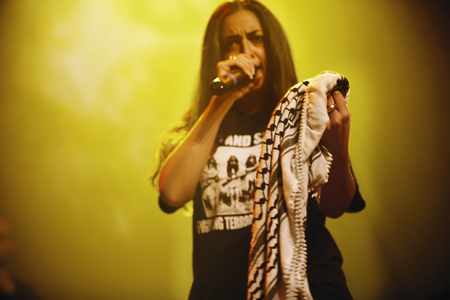 Lyrical Alliance feat. Talib Kweli
Issue 76 January 2011
Review by Sara Hussain
London played host to the Dash Arts Arabic series, a project dedicated to cross cultural artistic collaboration. The Lyrical Alliance, made up of artists from the Middle East in conjunction with Black star's, Talib Kweli, presented the audience with an evening of extreme lyrical brilliance. A landmark event in creating a bridge between language and culture allowed the crowd to delve into the rhythmic roots of hip hop, enjoying the classical Arabic Mu'Allaqat poems too.
The show opened with a passionate piece by British born Palestinian, Shadia Mansour. Dubbed the 'first lady of Arabic hip-hop', using English and Arabic, Mansour was able to wow the crowd with her piece incorporating both spoken word and song. Continuing the show, Algeria's Rabah Ourrad, Lebanon's Rayess Bek and others further explored the effects of Arabian poetry on society, with often detailed commentaries as to the importance of certain poems.
Camden's ever popular Roundhouse then saw the arena transform with the arrival of major US star Talib Kweli. One of few artists using melody both to educate and entertain, he was able to engage the whole crowd with powerful messages of liberation and cohesion.
The blend of languages as well as cleverly orchestrated spoken word poetry proved successful in promoting a side of artistic culture that is rare to find here in the UK.
Share this


Link to this
Printer Friendly