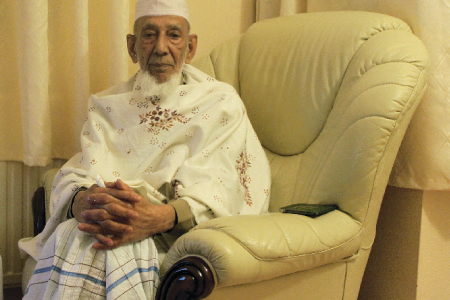 A Captain's Journey
Issue 76 January 2011
Highlighting the life of early Muslim migrants to Britain, Robi Chowdhury talks to Captain Meah about his experience of WWII, fleeing Partition and settling in the UK in 1947.
I first arrived in the UK in 1947, a little after the devastating Independence riots that consumed Calcutta. I can still remember the chaos following the events of August 1946. It was anarchy and destruction on a level I had never seen before. People were being killed indiscriminately on both sides. The stench of burnt bodies still haunts me to this day.
The Great War had ended a couple of years earlier and people were flocking from East Pakistan and other parts of the world in an attempt to start life again. I was one such person. I was the eldest son in my family and the first to arrive here. During the Second World War, I had been serving on board a trading vessel in the merchant navy. We were harboured in Colombo, replenishing allied munitions in the Ceylon area. I was a steward on board and our day-to-day tasks included making teas and coffees for the officers.
After spending the first couple of months in Southampton (where we had docked), one of the seamen we were staying with mentioned that there were opportunities for employment in Birmingham. I jumped at the opportunity and worked in an Indian restaurant there for a few years. My intention had always been to start up my own business, and now that I had been exposed to the food industry, I wanted to try something on my own. I decided to travel to a small town near Cardiff.
When I first arrived there, I worked for a short while in a small restaurant, before the manager approached me and asked me if I was interested in taking over the running of the business. This was my first experience of real entrepreneurship.
Business flourished, and I saved up what I earned. I was also sending money back home to Bangladesh periodically. Back then, the only way you could really do that was to send it physically in cash with someone who was travelling.
In Cardiff, we had a very close relationship with the police force, who would often ask me to help whenever they had difficulties in interpreting from Urdu, Hindi or Bengali. I became so popular that I was frequently called by the local authorities to offer them my translation and interpreting services.
I felt my skills were underused as the manager of a restaurant, and I needed to explore other areas that I hadn't delved in before. A close friend of mine, a superintendent, informed me that British Rail were looking for a group of people to sign on as guards. I initially thought he was humouring me and asked how a foreigner like me could possibly fit into such an institution (you might laugh, looking at the composition of British transport service today).
He put in a good word for me and surprisingly, despite lacking qualifications and experience, I had managed to impress a few of the senior officers and they offered me the job. I was told on my first day that I was one of the first foreign men to enlist in guard duty for British Rail.
I spent a good few years working on the lines where we travelled through various towns and cities across the UK. It gave me the chance to explore the great British countryside and meet people from various walks of life with all sorts of interesting tales from the War.
There was an occasion when we were stranded in a small town and we had to stay the night. We were invited by the locals to share in their Sunday roast. They knew of my dietary requirements and offered me roast potatoes and steamed vegetables. The hospitality of the people was something that was extraordinary. I remember them to this day and often pray for them.
That trend is sadly lacking with a good majority of the newer generations – the ability to unconditionally do good, expecting no return. I am not saying that it has gone completely, but it's just not considered a norm like it used to be.
Cardiff was a great place to stay. The people were very good to us foreigners who had settled there. The locals welcomed us, as we were one of their own. When I had arrived in Cardiff, there must have been around 40 to 45 foreigners living there. Most of the people were also seamen who had decided to settle like myself.
Generally, the housing conditions were very different from how you'd expect to live now. In most areas where there were migrants, you would expect to find six or seven people to a room. However, I had been fortunate enough to be living well enough on my transport salary at the time.
We were very proud to be a part of the mainstream community – actually, there wasn't a mainstream and a minority; it was just one community. We got on because we had fought Wars together, triumphed together and now we were building a new community together of Brits and foreigners. It was a good feeling to be part of something new that was being created after such a huge struggle. Everyone played their part and we were all starting new lives.
I didn't spend time reminiscing over Bangladesh in the first years that I had arrived here. I left home to start a new life and learn about a new culture. Of course, there were obstacles on the way, as I had to adapt to a new climate and environment, but I managed well. I have been back plenty of times over the years. When I finished at British Rail, I went back and got married. I stayed for a number of years before returning to the UK and starting up my own restaurant, this time in Wellingborough.
When I first arrived to this country, the 'Muslim Community' was not separate from the rest of society. We didn't label ourselves as being different. When I was working in the railways, we would all go out together to celebrate holidays and occasions. When we had Eid, we'd often be joined by the locals too.
We had no real fixed place of worship at the time, but every Friday we would designate someone's house as the place to pray jummah. As the years wore on, we heard of mosques being built in other cities, but we prayed in congregation amongst ourselves.
Muslims have progressed since then, and yes we do have many more mosques and Islamic institutions now. However, in the process of building all this we have created bubbles within which people isolate themselves a lot more and have broken up into sub-communities. Whereas before you only had one day of Eid and non-Muslims would join you, now you have just the Muslims doing Eid on three different days.
I have seen the passing of so many social trends, one thing coming after another. Nations that were once allies became enemies, and enemies became allies. If there is one thing that I would like to advise future generations, it is to value education and have the zeal for education. We need to be open with others and have a thick skin when engaging in conversations. There's a lot of burning of flags, effigies and books whenever someone says something, when we could probably solve a lot more problems by being level headed and taking the time to listen to one another. By listening to each other, we grow together. I want to be optimistic about the future, but I think relationships between people in my early years were better.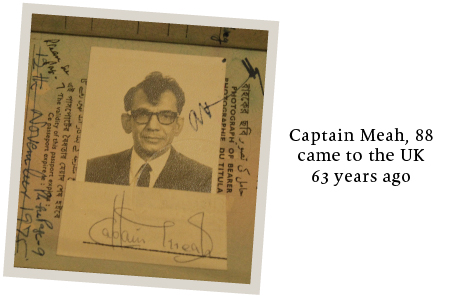 Do you have a similar story to share, or know someone who does? Please feel free to get in touch with us by dropping us an email to info@emel.com
Share this


Link to this
Printer Friendly