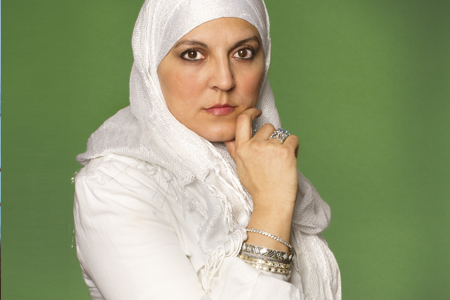 Nabila Fowles-Gutierrez
Issue 77 February 2011
Nabila Fowles-Gutierrez, midwife and musician, embraced Islam in 1999 aged 26.
I was 'spiritual', yet all the religions I had read about seemed to be missing something. I asked God, "Show me how to worship You" and He brought me to Islam. The Muslim understanding of God was the same understanding that I already had. It was not easy at first for me to be humble enough to open my heart fully, but I found I could develop a personal relationship with God.
I felt that Islam didn't deny the existence of prophets outside of the Middle East, and it was very important to me that Latin America, where I am from, would have received prophets and messengers. The Prophet Muhammad did not nullify the existence of any other messenger before him, he confirmed them. When I first read the Qur'an, I felt that it was God speaking directly to me, yet had many hidden meanings beyond that we could imagine, or beyond humanly understanding.
My family initially thought it would be a phase that I was going through, but overall, they were wonderful, and still are, especially my Mum. The biggest surprise and challenge was the reaction of some my friends. They were much less tolerant than I thought they would be.
I've learnt that it's best to grow in stages, and not to try to do everything at once. Gradual, solid steps will take you all the way to the end. Muslims are people who make mistakes just like anyone else, so be forgiving of yourself and others. Indeed the best quality we can have is to be forgiving. This is your Islam, as much as it is anyone else's, so we should be confident to make it our own, living it to its fullest potential in all aspects of our life.
Share this


Link to this
Printer Friendly