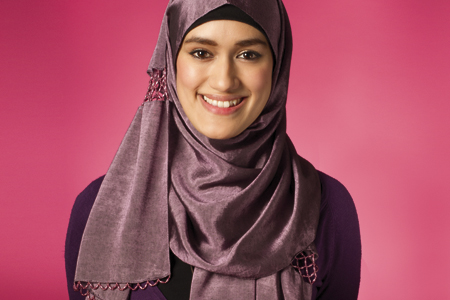 Katerina Nordin-Phillips
Issue 77 February 2011
Katerina Nordin-Phillips, a History graduate from SOAS, embraced Islam in 2003 aged 14.
My mum was a lapsed Catholic, and my dad had grown up Muslim in Malaysia but lost his faith when he moved here.
I was of no religion but had grown up with Christian culture from my mum.
A Buddhist friend started experimenting with drugs, and we would have debates about religion and theology. The debates woke me up and I realised that I believed in God, and started to study different religions.
Before reading up about Islam, I had assumed that the Prophet was just a random individual, but the fact that he followed on from all the other prophets and had that direct link made so much sense. It reinforced the belief that Islam is for everyone, and has a place in the wider picture of the world. When I started to read the Qur'an, a lot of internal questions were answered. I find it inspiring that it still resonates from 1400 years ago and has never been changed. It made sense to have a lifestyle that was so geared to God. Islam had the perfect balance between logic and spirituality.
Around the same time that I was looking into Islam, my Mum and Dad were doing the same and we all managed to reach the same conclusion independently. Following this, my older sisters embraced Islam too.
As converts, we can bridge the gap using our own personal experiences, but those new to the faith should take it at a pace that they can handle, but the most important thing is to try not to cut people off. We should show them the beauty of Islam, not run off into some sort of secluded community.
Share this


Link to this
Printer Friendly