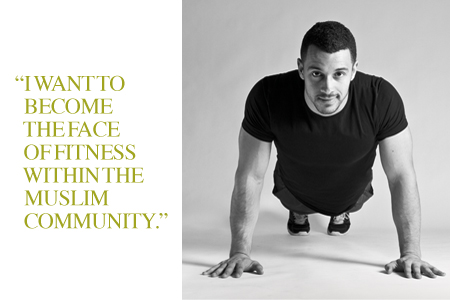 A Week in the life of Hammed Sahraoui
Issue 77 February 2011
For Hammed Sahraoui, a Health & Fitness Manager, a healthy lifestyle isn't just about diet and exercise; it is about self discovery and building up the strength to surpass the many hurdles of life.
As the Health & Fitness Manager at one of London's biggest Fitness First clubs, my day typically starts with a healthy bowl of porridge or six scrambled eggs. I grab some specially blended oils from a bottle in my fridge, and then wash it all down with a big glass of water.
It's important to maintain a presence around the gym floor. So, I usually catch up with my team, then settle down with my General Manager for a 10am meeting. We discuss the day's activities and our long-term plans. I then grab a protein shake and some fruit, and have an 11am meeting with the Heads of Departments to judge the previous day's performance and set targets for the day.
We provide the best service for our members, and we get a real range of people - from Muslim sisters to older people, to the boys that want to jump up a shirt size. People often join to get into shape for their wedding or holiday. We probably get the most new members in January, as people make it their New Year's resolutions. I enjoy helping people reach their goal, because it gives them a real confidence boost and this is definitely a place where you get out what you put in.
A lot of people don't train properly, however, so I try to show them the difference between a trip to the gym and a proper work out. For example, people don't use weights because they don't want to develop biceps, especially women, so my job is to educate them about the full benefits of resistance training; it boosts metabolism, so fat burns quicker and ligaments are strengthened, ultimately preventing degenerative diseases such as osteoporosis. They are quite appreciative when they learn that lifting dumbbells now means that they don't have to lift a zimmer frame in the future!
Managing a team of 20 everyday can get stressful, but I enjoy mentoring them and we all get along well. We have competitions and challenges between the staff and members; a few months ago we were lifting our own body weight on exercises and recording the number of reps that we could do. Of course, I was naturally at the top of that leader board!
After our morning meetings, I grab some lunch, which is usually chicken, wholegrain rice and broccoli. I then make sure that classes are running on time and members are happy with the service.
My own training starts at 3pm, and I switch between routines every four to six weeks. I've just finished Strength training and will go onto Muscle Growth. I train from five to six times each week, and it's important that I'm at the peak of my fitness. After training, I'll grab another protein shake and some more fruit.
My dad got me into thinking healthy; he was a chef and would teach me about the different food groups in our meals. When I was 19, he passed away from bowel cancer and it really hit me. I took some time off and decided to go into the Health & Fitness industry. I went down to my local gym and they recommended a couple of courses to me. I completed those and ended up working there.
I want to become the face of fitness within the Muslim community, so I work on promoting healthy lifestyles. 70% of your goal comes down to the correct nutrition, and most people don't even eat the right foods.
In my spare time, I like to travel; having explored Egypt and Morocco with my brother. I also enjoy trying different foods, from Indian to Caribbean to Nando's! I do a bit of cooking myself, and made Jollof Rice the other day, a Nigerian dish that turned out pretty well.
I like to read a lot, as I believe that you can never know enough. I think this stems from my dad too; he used to tell me stories when I was younger – about Islam, the Prophet Muhammad, from the Qur'an, even ones from his own life. Sometimes, my friends would knock for me to come out and play, but I would make excuses just to spend time with my dad.
He really was my energy and even now when I'm feeling too lazy to do anything, I think to myself that Dad would want me to go out and get stuff done. He was all about people getting into shape, so I know that he would have loved to see me doing what I do.
Cheap Mens Clothing : https://www.hellenwoody.com/en/men.html
Share this


Link to this
Printer Friendly